LYON
Lyon is the second largest conurbation in France and situated on the confluence of the rivers Saône and Rhône. Although the city itself only counts some 523,000 inhabitants, it has about 1.7 million inhabitants in the metropolitan area formed by 124 boroughs (1141 km2), including Villeurbanne (152,000 inh.) and Vénissieux (67,000 inh.). Lyon is the capital of the Auvergne-Rhône-Alpes region.
For urban transport enthusiasts, Lyon offers virtually all existing modes: buses, trolleybuses, trams (T1, T2, T4), light rail (T3 & Rhônexpress), funiculars, metro (including a driverless line and a rack railway!) and regional trains. Except for regional trains and the Rhônexpress to the airport, all transport modes are operated by TCL and can be used with the same ticket. There are no fare zones.
Métro

The first sections of today's metro network opened in 1978, with most of the current line A, plus a short line B shuttle to Part Dieu railway station and the converted line C with its rack section up the Croix-Rousse hill.
Lyon's metro is now privately operated by Keolis Lyon under the brand name "TCL" (Transports en Commun de Lyon - also in charge of buses, trams, trolleybuses and the 2 funiculars); the network infrastructure is owned and maintained by Sytral (Syndicat mixte des transports pour le Rhône et l'agglomération lyonnaise), also responsible for the planning and construction of new routes.
The metro's total length is 30.3 km, it is completely underground, except for a short section on line C. The average distance between stations is 750 m. The metro runs mostly at low depth with many stations located right below street level with separate entrances for each side platform. Most stations are rather functional, altough some, especially on line D, boast an interesting design, like Parilly (architects: Jourda and Perraudin), which seems to be an underground cathedral, or Valmy and Gare de Vaise. Most stations have been equipped with lifts in recent years, and ticket barriers were installed in the late 2000s to reduce fare evasion.
The metro operates between 05:00 and 00:30. During daytime hours, trains run every 3-4 minutes on Line A & B, every 5-7 minutes on Line C and every 2.5 minutes on Line D.

Trains all have a similar design although they might use a different system. While line C is the only steel-to-steel railway line with its centre rack on the lower section, the other three lines use rubber-tyred wheels. The metro is operated on the left side. Trains are 2.9 m wide (line C 2.78 m). Except for the trains on line D, all vehicles have been repainted from the original orange livery into white with a red stripe. Several units have also been refurbished inside, with the formerly comfortable seats being replaced by a reduced number of longitudinal seats to increase the overall capacity of the system.
Line A
Perrache - Vaulx-en-Velin La Soie; 9.2 km, 14 stations
Line A is operated in ATO mode with rubber-tyred 3-car trains. Most of the line was opened in 1978 and only extended by one station in 2007, mostly by taking advantage of the depot access tracks, to create an interchange with tram line T3 and the Rhônexpress to the airport. Line A links Lyon's second major railway station Perrache to the neighbouring municipality of Villeurbanne by passing through the city centre proper known as Presqu'Île (peninsula between the two rivers). The line crosses the river Rhône inside the Morand-Bridge.
02 May 1978: Perrache - Laurent Bonnevay (8 km)
02 Oct 2007: Laurent Bonnevay - Vaulx-en-Velin La Soie
Line B
Charpennes - Gare d'Oullins via Part Dieu (main railway station); 7.7 km, 10 stations
Like line A, line B used to be operated in ATO mode with rubber-tyred 3-car trains, before it was converted to driverless operation with 2-car sets (MPL16) on 25 June 2022.
The northern terminus at Charpennes is single-track, with line B trains being able to switch to the line A tracks to reach the depot at La Soie. Passengers changing between line B and the inbound line A can do so without climbing any stairs.
With Line B having been extended to the west bank of the River Rhône (including an underground river crossing) in 2013 to terminate at Oullins railway station, another 2-station extension is under construction from there to an important hospital complex (2.5 km).
02 May 1978: Charpennes - Part Dieu
14 Sept 1981: Part Dieu - Jean Macé
04 Sept 2000: Jean Macé - Stade de Gerland
11 Dec 2013: Stade de Gerland - Gare d'Oullins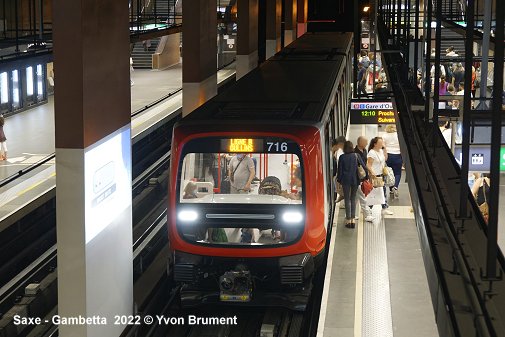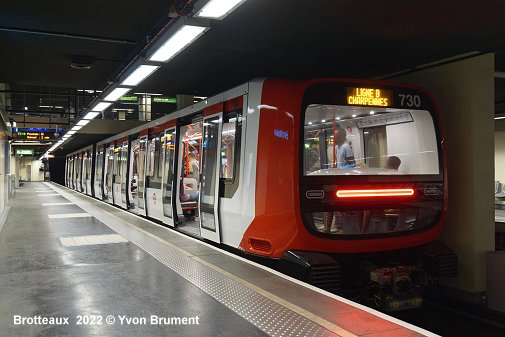 Line C
Hôtel de Ville - Cuire; 2.4 km, 5 stations
On 6 Dec 1974, the former funicular, opened in 1891, was converted into a rack railway between Croix-Paquet and Croix-Rousse, which then became part of the new metro system in 1978 after its extension to Hôtel de Ville (Hôtel de Ville and Croix-Rousse - 936 m). In 1984 it was extended to Cuire, now on a level alignment without the centre rack rail, but single-track and above ground from just after Hénon and the terminus at Cuire. This extension took advantage of the abandoned railway corridor of the line to Sathonay, closed in 1975.
Line C probably includes the world's steepest metro station: Croix-Paquet (a gradient of 17%). This line is operated with 2-car trains.
02 May 1978: Hôtel de Ville - Croix-Rousse
10 Dec 1984: Croix-Rousse - Cuire
Line D
Gare de Vaise - Gare de Vénissieux; 12.5 km, 15 stations
In 1991, line D was the first large-profile driverless metro line in the world. The so called 'Maggaly' system (Métro automatique à grand gabarit de l'agglomération lyonaise) allows a frequency of 2 minutes between trains. Trains are formed by only two cars, although station platforms are ready to accommodate 4-car trains. Compared to the VAL system in Lille and Toulouse or line 14 in Paris, this line does not have protective doors between platform and trains. Instead, doors have sensors to detect clothes, bags or other things that might get trapped, and there is the SQV (sécurité quais-voies) system, a security system working with infrared rays which causes trains to stop automatically and interrupts electricity if there is a major object on the tracks. While the eastern part of line D was built by cut-and-cover at low depth, the line passes under the rivers Rhône and Saône in single-track tube tunnels excavated with TBMs. West of Vieux Lyon station the line runs under the Fourvière/Saint Just hills to the western suburbs.
09 Sept 1991: Gorge de Loup - Grange Blanche
11 Dec 1992: Grange Blanche - Gare de Vénissieux
28 Apr 1997: Gorge de Loup - Gare de Vaise
Projects
A new Line E planned to run from the city centre westwards to Alaï [Project website]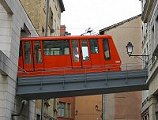 The Lyon metro map also shows two funicular lines which both start at Vieux Lyon (Old Lyon) metro station. The line to Fourvière is more of a tourist type, whereas the other to Saint Just with an intermediate stop at Minimes for the Roman theatres is a real metro extension with trains every 5 minutes between the city centre and the neighbourhood of Saint Just. (Read more here)
Tram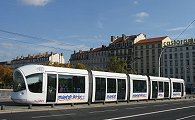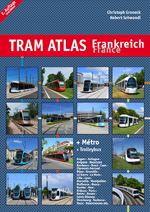 In January 2001, two tram lines began running through Lyon and its eastern suburbs: between Perrache (transfer to Line A) and IUT de Feyssine in the north-east (line T1; 8.2 km), and from Perrache (transfer to Line A) to Porte des Alpes in the southeast (line T2; 10.1 km). Meanwhile T1 has been extended from Perrache to Montrochet and T2 from Porte des Alpes to St Priest-Bel-Air. A third line (T3) opened on 4 Dec. 2006, it links Gare Part-Dieu with Meyzieu Z.I. along the former railway alignment of the 'Chemin de Fer de l'Est Lyonais'. The Rhônexpress to Lyon Saint Exupéry Airport, which shares this route, was launched on 9 Aug 2010 (special fares apply!). After line T4 was brought into service on 20 April 2009, line T5`was introduced on 17 Nov 2012, and the network continues to grow.
Links
TCL Site (official website)
Sytral (Transport Authority - official website)
Rhônexpress (Airport Train)
---
FPTU (France Passion Transport Urbain)
Metro de Lyon at Wikipedia.fr
Carto.metro - Fantastic track map
Lyon Métro Map 1997 (scanned .jpg, 75 KB)
Trams in Lyon by Christoph Groneck
Photos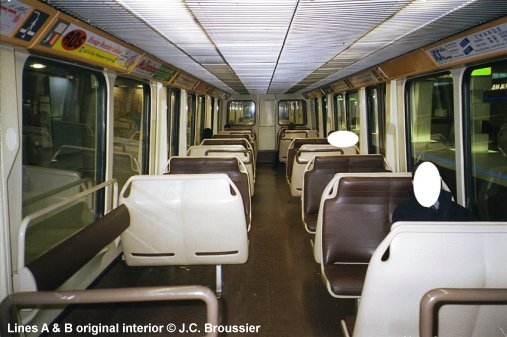 >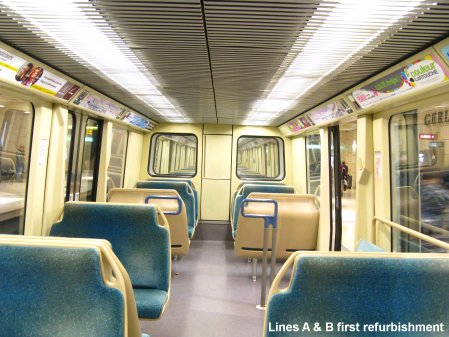 >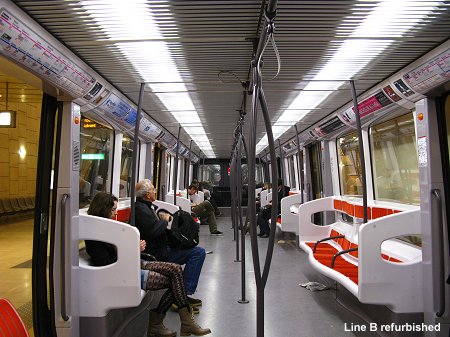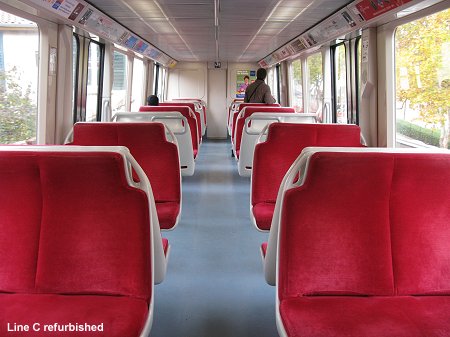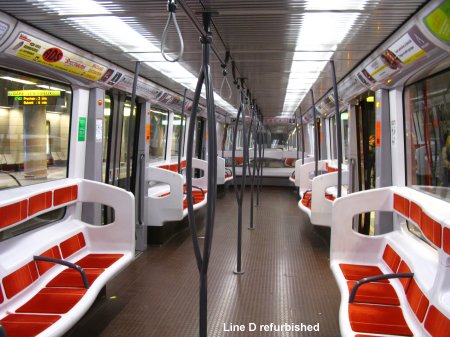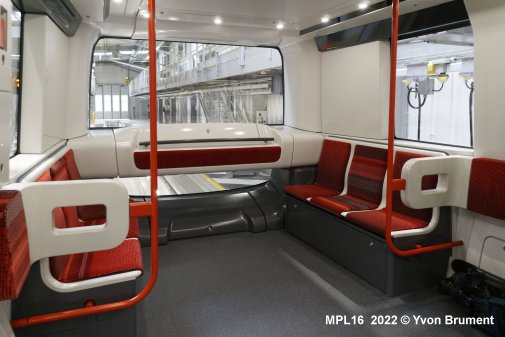 Books
NEW: Tram Atlas Frankreich | France (2nd edition, 2022)
This revised edition of our bilingual (German/English) and illustrated atlas includes all tramway and trolleybus cities in France, plus all the Métro and VAL systems. Each city features a detailled system map, some with an enlarged city centre area, showing all stops, loops, single-track section, depots etc. Short texts provide information about special features, while details about history and operation are presented in tables. All current vehicles are depicted in one of the numerous colour photographs.
Angers, Aubagne, Avignon, Besançon, Bordeaux, Brest, Caen, Clermont-Ferrand, Dijon, Grenoble, Le Havre, Le Mans, Lille, Lyon, Marseille, Montpellier, Mulhouse, Nancy, Nantes, Nice, Orléans, Paris, Reims, Rouen, Saint-Étienne, Strasbourg, Toulouse, Tours, Valenciennes
160 pages, 17x24 cm, approx. 300 colour images, network maps, text Deutsch/English
Feb. 2022 - ISBN 978 3 936573 66 4, EUR 19.50
More info here!
Christoph Groneck: METROS IN FRANKREICH / METROS IN FRANCE. Paris, Lyon, Marseille, Lille, Toulouse, Rennes, Rouen & Laon. - Aug. 2006, Robert Schwandl Verlag, ISBN 3 936573 13 1 (More info)

José Banaudo: Sur les rails du Lyonnais: Volume 2, Les réseaux secondaires, tacots, ficelles et métro. - 2002, Editions De Borée, Collection : images ferroviaires 160 p. ISBN 2844941346
Christoph Groneck: Neue Straßenbahnen in Frankreich. - 2003, 167p., Ek-Verlag, ISBN 388255844X
Historic Photos