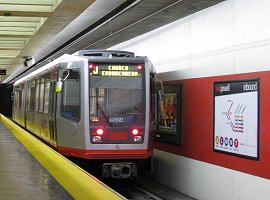 The Muni Metro is a streetcar-like network which runs underground in the city centre with 8 underground stations. Along Market Street, the tunnel is shared by the Muni Metro (upper level) and BART (lower level). The western section of the tunnel between a point west of Castro station and West Portal, the so-called Twin Peaks Tunnel (3.5 km), was opened on 3 Feb 1918 with one underground station at Forest Hill.
The central tunnel is used by all Muni Metro lines (lines K and T are operated jointly), with lines J and N leaving through a portal west of Van Ness station. At the eastern end, lines J, M and L reverse in the underground sidings beyond Embarcadero station, while lines N and T surface before reaching the Folsom stop.
While the western branches have a very basic streetcar alignment, with stops identified by a simple yellow paint on some nearby pole, the new branch from Embarcadero to Sunnydale runs on its own right-of-way with high-level platforms and can thus be classified as a proper light rail line. Along the tunnel stretch, Muni Metro vehicles are operated in ATO mode. Along the western branches, only two stops have full high-level platforms; at several others there are ramps which allow disabled passengers to board at the front door.
The Muni Metro T line, which opened in April 2007, was extended underground north from King Street along Fourth Street, entering a new Central Subway near Bryant Street. It crosses beneath Market Street and continues under Stockton Street. Underground stations are located at Moscone Center, Union Square/Market Street (interchange with BART and Muni Metro at Powell Street station) and Clay Street in Chinatown. A weekend-only service was launched on 19 Nov 2022 between Chinatown-Rose Pak and 4th & Brannan, while regular through service started on 07 Jan 2023.