KYIV (KIEV)
The capital of Ukraine, is situated on the river Dnipro and has about 2.6 million inhabitants. Its metro system is a typical ex-Soviet three line system (total length 67.6 km in Nov 2013) with all lines meeting in the city centre to form a triangle. Older stations in the city centre were built in the underground palace style similar to Moscow's metro. The network is entirely underground on the right bank of the river Dnipro (Dnieper) with two bridge-crossings of the river and one at-grade stretch on Line 1 on the left bank.
Apart from the Metro there are two rapid tram lines, with the first operating from the Railway Station (Vokzal'na) to the western suburbs (Kil'tseva Doroha, 9.1 km, 1977). Running in the median of a major road, after 20 years of operation, the line was upgraded in 2009/2010. A branch to Mikhailsvs'ka Borschahivska, which has a more light rail type alignment, was added in 1984.
A second 6.7 km rapid tram line is in service in the district of Troeschyna in the north of the left bank now connecting Troeschina-2, a new station on the city ring railway, with the standard tram system at Miloslavs'ka.
Lines & History
..
Line M1: Chervona Liniya - Red Line - 22.8 km, 18 stations
In 1960 the first part of the first line (Sviatoshyns'ko-Brovars'ka) opened between Vokzal'na (Central Station) and Dnipro. The latter station with side platforms is situated on the bridge over the motorway along the bank of the Dnieper river. After this station, eastbound, the line crosses the river on a dedicated metro bridge and continues on the surface to the eastern terminus.
6 Nov 1960: Vokzal'na - Dnipro (5.2 km)
5 Nov 1963: Vokzal'na - Zavod "Bil'shovyk" (now Shuliavs'ka) (3.3 km)
5 Nov 1965: Dnipro - Darnytsia (incl. metro bridge, 4.2 km)
4 Oct 1968: Darnytsia - Komsomol's'ka (now Chernihivs'ka) (1.3 km)
5 Nov 1971: Zavod "Bil'shovyk" - Sviatoshyn (4.2 km)
4 Dec 1979: Komsomol's'ka - Pioners'ka (now Lisova) (1.2 km)
7 Nov 1987: Teatral'na station (formerly Lenins'ka) added
24 May 2003: Sviatoshyn - Akademmistechko (3.3 km)
Although one more station at the western end had been planned to create a transfer to Novobilychi commuter rail station, no extensions of this line are expected in the near future.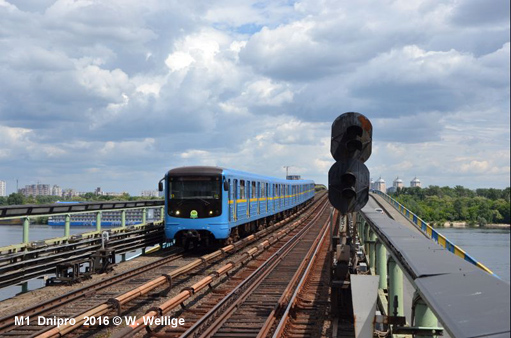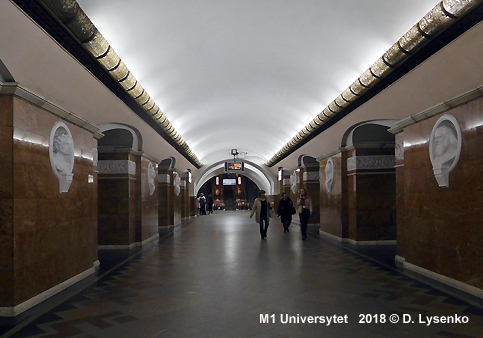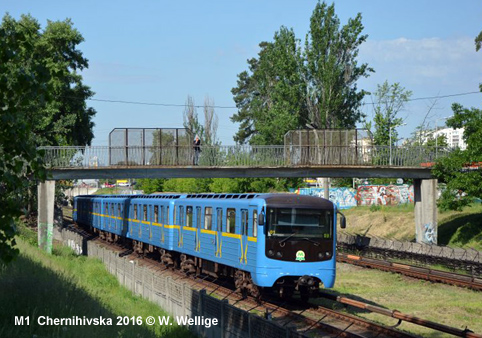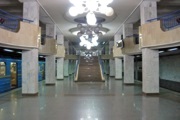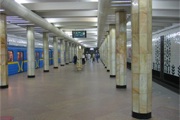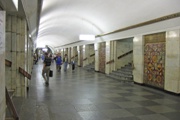 More M1 photos
2005 © Alexei Bobko: Akademmistechko, Sviatoshyn, Khreschatyk, Darnytsia
Line M2: Synya liniya - Blue Line - 20.9 km, 18 stations
The second line (Kurenivs'ko-Chervonoarmiys'ka Line) was opened in 1976 between Ploscha Kalinina (later Ploscha Zhovtnevoi Revoliutsii and now Maidan Nezalezhnosti, transfer to Khreschatyk station) and Chervona Ploscha (now Kontraktova Ploscha). Between 1980 and 1984 the line was extended at both ends, with the first section of a longer southern extension finally being brought into service in 2010:
17 Dec 1976: Ploscha Kalinina (now Maidan Nezalezhnosti) - Chervona Ploscha (now Kontraktova Ploscha) (2.3 km)
1980: Chervona Ploscha - Prospekt Korniichuka (now Obolon') (4.4 km)
19 Dec 1981: Ploscha Zhovtnevoi Revoliutsii - Respublikans'kyi Stadion (2.1 km)
6 Nov 1982: Prospekt Korniichuka - Heroiv Dnipra (2.2 km)
30 Dec 1984: Respublikans'kyi Stadion - Dzerzhyns'ka (now Lybids'ka) (2.3 km)
15 Dec 2010: Lybids'ka - Vasyl'kivs'ka (3.8 km)
27 Dec 2011: Vasyl'kivs'ka - Vystavkovyi Tsentr (Exhibition Centre; 1.5 km)
25 Oct 2012: Vystavkovyi Tsentr - Ipodrom (1 km)
06 Nov 2013: Ipodrom- Teremky (1.5 km)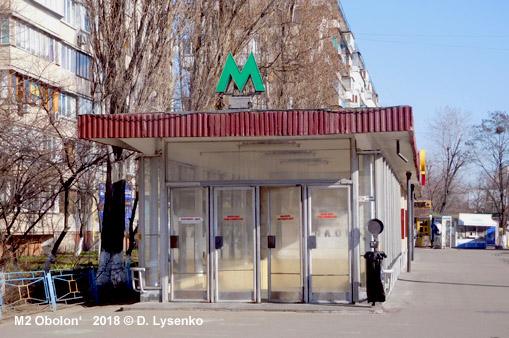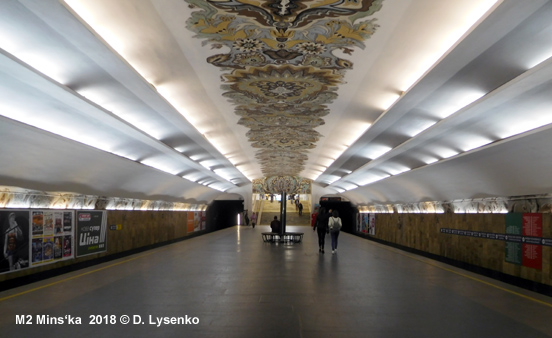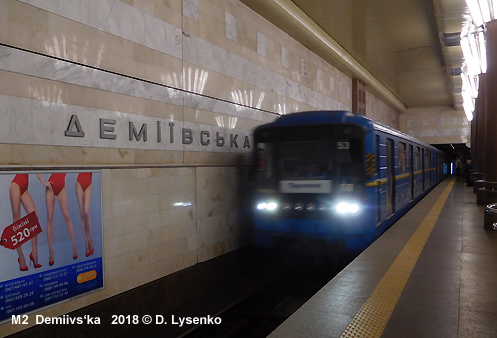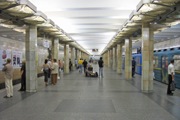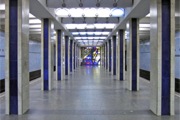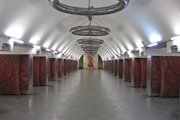 2005 © Alexei Bobko: Obolon', Poshtova Ploscha, Pl. Lva Tolstoho, Palats Ukraina
More M2 photos
2005 © Alexei Bobko: Akademmistechko, Sviatoshyn, Khreschatyk, Darnytsia
Line M3: Zelena liniya - Green Line - 23.9 km, 16 stations
The third line (Syrets'ko-Pechers'ka) also began in the city centre in 1989 and this line has been growing towards the south-east crossing the river on a bridge covered in an aluminium shelter:
31 Dec 1989: Zoloti Vorota - Mechnikova (now Klovs'ka) (1.9 km)
29 Dec 1991: Mechnikova - Vydubychi (4.4 km, without Pechers'ka)
30 Dec 1992: Vydubychi - Osokorky (4.2 km, without Telychka)
30 Dec 1994: Osokorky - Kharkivs'ka (2.6 km)
30 Dec 1996: Zoloti Vorota - Lukianivs'ka (3.1 km; L'vivs'ka Brama not finished).
30 Dec 1997: Pechers'ka station added
30 Mar 2000: Lukianivs'ka - Dorohozhychy (2.7 km)
14 Oct 2004: Dorohozhychy - Syrets' (1.4 km)
23 Aug 2005: Kharkivs'ka - Boryspil's'ka (2.5 km, without Vyrlytsia)
04 Mar 2006: Vyrlytsia station added
23 May 2008: Boryspil's'ka - Chervony Khutir (1.1 km)
There are two built in draft stations on this line, L'vivs'ka Brama and Telychka. The opening of L'vivs'ka Brama depends on the finishing of replanning and reconstruction of L'vivs'ka Sq. above the station to know the location of station entrances to build escalator tunnels toward them. Telychka station between Vydubychi and Slavutych on the right bank of the Dnieper River will be opened later, when the industrial zone around it will be transformed into large residential and an office complex.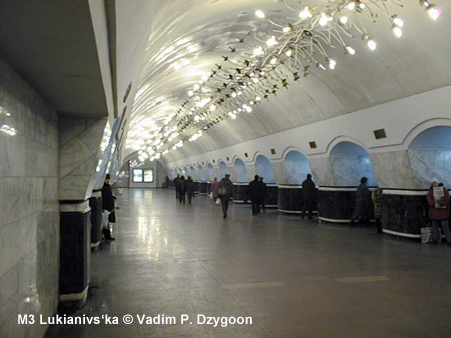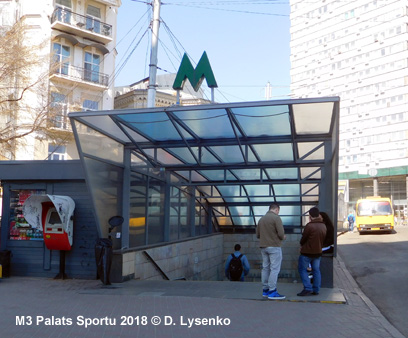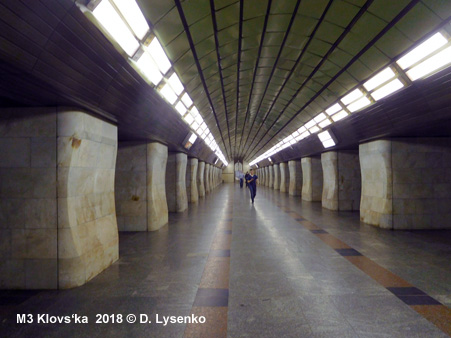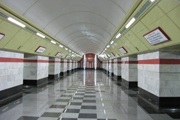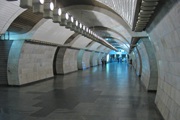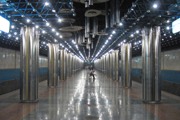 2005 © Alexei Bobko: Syrets', Pechers'ka, Vydubychi, Slavutych
More M3 photos
2005 © Alexei Bobko: Akademmistechko, Sviatoshyn, Khreschatyk, Darnytsia
Projects
The Green Line is being extended towards the northwest to reach Mostyts'ka and Prospekt Pravdi with one more depot for this line (2021). Later a fill-in station called L'vivs'ka Brama station may open between Lukianivs'ka and Zoloti Vorota.
The first five stations of the fourth line, the Podil's'ko-Voskresens'ka, from Tarasa Shevchenka east to Raduzhna were once planned to open in 2017, but the real completion date is now in the distant future:
Since late 2004, a new two-level motorway/metro Podil's'kyi bridge is being built over the Dnieper River to connect Central railway station (Vokzal'na) with residential zones on the north of the left-bank part of Kyiv. The line using this bridge, will intersect with all existing lines (Line 1 at Vokzal'naya, Line 3 at Lukyanivs'ka, Line 2 at Tarasa Shevchenka).
Click here for a geographical map with projects in 2010 (by Alex Riabov)
..
Links
KYIV METRO (Official Page)
Kyiv Pastrans (Tram Operator)
Easyway Kyiv - Journey Planner
---
Kyiv Metro at Wikipedia
Kiev Metro Page by Vadim P.Dzygoon
Metrosoyuza by Peter Donn includes nice station pictures
Mir metro/Metroworld - Kyiv by Dmitry Aksenov
Muzey Metro (incl. many historic photos)
Scanned map from my collection 1997 (282 K)
Mikhail Barashkov's Page about Kyiv's second fast tram
Kyiv Tram at Wikipedia
Funicular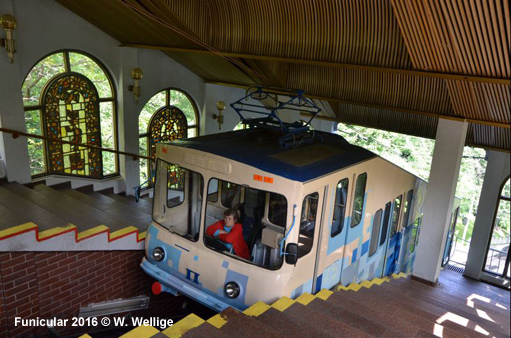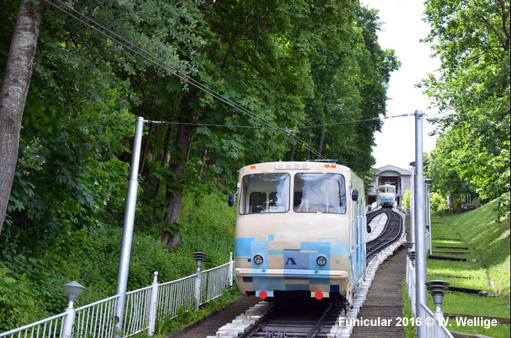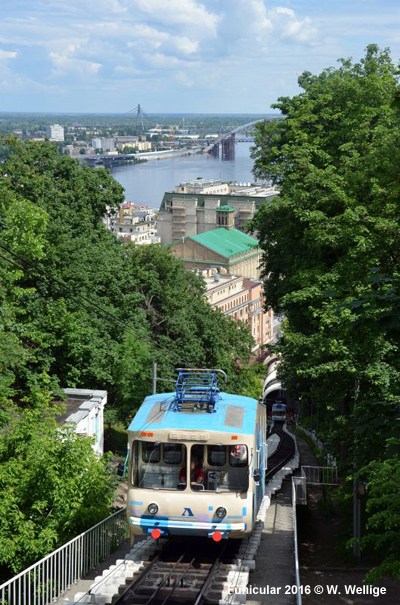 Metro Book
Kyivskiy Metropoliten by Kostj Kozlov (including English summary)
Metro Museum
Open on Mondays, Fridays - 10:00-13:00, on Wednesdays - 14:00-17:00
Address: Prospekt Peremogy 35, Tel 238-4494
Photos