BARCELONA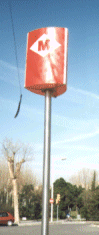 Barcelona is the capital city of Catalonia and bilingual, Spanish and Catalan. The city itself has some 1.6 million inhabitants with about 3 million in the metropolitan area (including the towns of L'Hospitalet, Cornellà, Esplugues, Sant Joan Despí, Sant Just Desvern, El Prat de Llobregat in the south, Santa Coloma de Gramanet, Sant Adrià de Besòs and Badalona in the north).
The Barcelona rapid transit network is operated by two companies:
1) Transports Metropolitans de Barcelona (TMB): city-owned transport operator in charge of L1-L5 and L9-L11, as well as city buses in Barcelona city proper.
2) Ferrocarrils de la Generalitat de Catalunya (FGC): owned by the Autonomous Government of Catalonia, in charge of L6-L8 and suburban rail services starting from Pl. Catalunya (Metro del Vallès) and from Pl. Espanya (Metro del Baix Llobregat).
These metro lines are complemented by a network of suburban railways operated by Renfe (Spanish National Rail) on 4 cross-city routes, and the new tram lines running in the north and the south of the metropolitan area, so far without crossing the Barcelona city centre.
Metro Lines
..

Hospital de Bellvitge – Fondo 20.7 km, 30 stations
Second oldest line, opened in 1926 as Ferrocarril Metropolitano Transversal de Barcelona, actually designed to connect all mainline railways and therefore built with Spanish gauge (1,672 mm). Still today, L1 (Red Line) runs parallel to RENFE (Spanish State Railways) between Catalunya and Fabra i Puig, and between Plaça de Sants and Torrassa. The first section opened included the stations Bordeta (out of service since 1983), Mercado Nuevo (now Mercat Nou), Sans (now Plaça de Sants), Hostafranchs (now Hostafrancs), España (now Espanya), Rocafort, Urgel (now Urgell), Universidad (now Universitat) and Cataluña (now Catalunya). L1 crosses the entire municipality of L'Hospitalet (Hosp. de Bellvitge - Santa Eulàlia), Barcelona and finally Santa Coloma de Gramanet (Santa Coloma, Fondo). L1 runs on the surface for a short stretch before and after Mercat Nou station. More about L1

Paral.lel – Badalona Pompeu Fabra 13 km, 18 stations
Rather new line, though first sections built in the 1960's. Initially planned to run from Horta to the city centre via Sagrera and Sagrada Família. The project was eventually revamped for the 1992 Olympics, although the line opened only in 1995, with the Horta branch being left with L5. Extended in 1997 it took over the former L4 Pep Ventura branch in 2002. L2 was built with a rigid catenary from the start. L2 runs in Barcelona up to La Pau, then through the small municipality of Sant Adrià de Besòs (Verneda, Artigues) and finally in Badalona. L2 is totally underground. More about L2

Zona Universitària – Trinitat Nova 18.4 km, 26 stations
The oldest line, Gran Metro de Barcelona, had initially two branches from Aragón (now Pg. de Gràcia) to Liceo (Liceu) and to Jaime I (Jaume I) and Correos (now closed). From 1975 until 1982, the Pueblo Seco (now Paral.lel) - Zona Universitària stretch was operated independently as line IIIB, as only this stretch was equipped with third rail power supply, the original stretch having an overhead wire. As with all the other lines, the third rail was replaced by a rigid catenary in 2001-2003. L3 runs entirely within the Barcelona city boundaries. L3 is totally underground. More about L3

Trinitat Nova – La Pau 17.3 km, 22 stations
L4 includes an old stretch between Pg. de Gràcia and Barceloneta, which was initially a branch of L3. Until 2002, L4 continued to Badalona (now L2). At Trinitat Nova, shared platform with L11. L4 runs entirely within the Barcelona city boundaries. L4 is totally underground. More about L4

Cornellà Centre – Vall d'Hebron 18.8 km, 26 stations
L5 was designed as a second transversal line to relieve L1. The Sagrada Família - Horta section was initially built for L2 and temporarily linked to L5, but eventually remained part of it. In the 1960's the first section from Sagrera to Vilapicina was operated automatically. L5 has always had overhead power supply. L5 starts in Cornellà (- Sant Ildefons), runs through L'Hospitalet (with Can Vidalet on the border to Esplugues) until Collblanc, and then in Barcelona. L5 runs on the surface for a short stretch east of Can Boixeres station. Finally in July 2021, a new station was added on the existing line, Ernest Lluch, located between Collblanc and Pubilla Cases, right at the border between Barcelona and L'Hospitalet.More about L5

Pl. Catalunya – Reina Elisenda 7 km, 13 stations (incl. L7)
Urban service on the Sarrià Line, in mixed traffic with suburban trains (Metro del Vallès) between Pl. Catalunya and Sarrià. Sant Gervasi, La Bonanova and Tres Torres stations are only served by L6 and S5/S55 trains. L6 uses track 1 (southernmost) at Pl. Catalunya, and both western tracks at Sarrià. L6 is totally underground.
Since 12 Sept 2016, the section Sarrià - Reina Elisenda has been operated as a shuttle labelled L12.

Pl. Catalunya – Av. Tibidabo (see L6)
Urban service on Tibidabo branch running under Balmes street (also called Línia de Balmes). Uses track 2 at Pl. Catalunya and outer tracks at Gràcia. Single track terminus at Av. Tibidabo, where transfer is possible to Tramvia Blau, a vintage tram. L7 is totally underground. More about L7

Pl. Espanya – Molí Nou/Ciutat Cooperativa 12 km, 11 stations
Urban service on the 1000 mm gauge line from Pl. Espanya to Sant Boi and Molí Nou. Confusing timetable with many S-labelled lines stopping at the same stations. Starts on the right bank of the Llobregat river, which it crosses on a bridge just after leaving Sant Boi; about 500 m further east trains go underground for the rest of the journey through Cornellà (Cornellà-Riera, Almeda), L'Hospitalet (L'H., Sant Josep, Gornal, Europa-Fira, Ildefons Cerdà) and Barcelona. More about L8

&

Nord: Can Zam / Gorg – La Sagrera 11.1 km, 12 stations ||

&

Sud: Zona Universitària /Collblanc – Aeroport T1 / Zona Franca ~26 km, 20 stations
The first section of a completely new 46.6 km line opened in Dec. 2009 in the northern suburban municipality of Santa Coloma de Gramanet. Eventually, L9/10 will run like a semicircular line from the airport and Zona Franca to Zona Universitària, further on to Sarrià and Lesseps and via Guinardó and La Sagrera (Meridiana) to the planned Sagrera AVE Railway Station. Then north to Bon Pastor and under the Besòs river splitting into two branches, one to Santa Coloma (Can Zam) and one to Badalona (Gorg - L2). Construction from La Sagrera (L1, L5) north to Can Zam and Gorg began in late 2001. L9/10 is being excavated by tunnel boring machines at great depth, with a 12 m diameter tunnel, which allows trains to run on top of each other. Also stations are located inside this tunnel, with separate platforms on top of each other, and accessible by lifts. The line is operated in driverless mode and the stations are therefore equipped with platform screen doors. The Zona Franca leg in the south will be elevated. The project has repeatedly been modified, especially in the airport area.
With the southern part of the line finally opened on 12 Feb 2016, the original L9 from Can Zam to La Sagrera became L9 Nord, with the new section from Zona Universitària to Aeroport T1 operated as line L9 Sud. Like L1-L5 and L11, line L9/10 is part of the TMB network. On 8 Sept 2018, the first two stations, Foneria and Foc, along the southern L10 branch opened, followed by Provençana on 2 March 2019 and Ciutat de la Justícia on 23 Nov 2019. With the extension to Zona Franca on 1 Feb 2020, Barcelona got its first elevated metro station. The elevated section was eventually extended to ZAL/Riu Vell on 7 Nov 2021.

Trinitat Nova – Can Cuiàs 2.3 km, 5 stations
This is a single track underground line with double track at Torre Baró/Vallbona to allow train crossing. Trains (2 cars only) used are similar to those on L2, and the tunnel was built to full metro standards so it can be upgraded later if considered necessary. Once platform screen doors have been added, the line will be operated automatically without drivers. Construction of this long claimed extension began in spring 2001 and the line was opened in Dec. 2003, serving the areas of Ciutat Meridiana in Barcelona and Can Cuiàs in the neighbouring Montcada i Reixac. More about L11
---
Total network length: 148.5 km, 187 stations (11/2021)

Metro History
30 Dec. 1924 - L3 Catalunya - Lesseps (Gran Metro)
10 June 1926 - L1 Bordeta (now closed) - Catalunya (Metro Transversal)
19 Dec. 1926 - L4 Aragón (now Passeig de Gràcia) - Jaume I (Gran Metro branch)
....
for more details see special HISTORY page.
18 Feb 1992 - L1 Santa Coloma - Fondo
25 Sept 1995 - L2 Sant Antoni - Sagrada Família
06 Jan 1996 - L2 Sant Antoni - Paral.lel
20 Sept 1997 - L2 Sagrada Família - La Pau
27 Oct 1999 - L4 Via Júlia (formerly Roquetes) - Trinitat Nova
21 Sept 2001 - L3 Montbau - Canyelles
01 Oct 2002 - L2 La Pau - Pep Ventura became part of L2 (previously L4)
04 Aug 2003 - L4 El Maresme | Fòrum station added
14 Dec 2003 - L11 Trinitat Nova - Can Cuiàs
04 Oct 2008 - L3 Canyelles - Trinitat Nova
13 Dec 2009 - L9 Can Zam - Can Peixauet (3.9 km)
18 Apr 2010 - L9/L10 Bon Pastor - Gorg/Can Peixauet (3.4 km)
26 June 2010 - L9/L10 La Sagrera - Bon Pastor (2.8 km)
11 July 2010 - L2 Pep Ventura - Badalona Pompeu Fabra (0.6 km)
30 July 2010 - L5 Horta - Vall d'Hebron (2.2 km)
19 Sept 2011 - L9 Santa Rosa station added
12 Feb 2016: L9 Sud Zona Universitària - Aeroport T1 (19.6 km)
08 Sept 2018: L10 Sud Can Tries|Gornal - Foc (2.4 km)
02 Mar 2019: L10 Sud Provençana station added
23 Nov 2019: L10 Sud Ciutat de la Justícia added
01 Feb 2020: L10 Sud Foc - Zona Franca (1.7 km)
25 July 2021: L5 Ernest Lluch station added
07 Nov 2021: L10 Sud Zona Franca - ZAL/Riu Vell (2.4 km)

Metro Projects
In 2000, the Barcelona Transport Authority (ATM) approved the metro expansion plan for the next 10 years which includes several line extensions and a new 46 km line L9/L10.
Under construction (though partly suspended):
- L9/10: In spring 2002, construction began on the first section of the new semicircular L9, from La Sagrera (L1, L5) to Can Zam and Gorg (L2), which was completed in 2010. Soon after, all other sections were under construction, too, but due to financial problems, works has been suspended on the central section for several years. More about L9/10.

For more extensions see special PROJECTS page.

Other Rail Services in the Barcelona Metropolitan Area
The region around Barcelona is served by two types of suburban rail services, the regional network operated by FGC (Ferrocarrils de la Generialitat de Catalunya) and Rodalies de Catalunya, which is operated by Renfe:
..
FGC (Ferrocarrils de la Generalitat de Catalunya)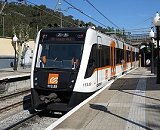 - Línia Barcelona-Vallès: standard-gauge suburban lines starting from Pl. Catalunya, sharing tracks with L6 to Sarrià, then running to Sant Cugat, from where some trains continue to Terrassa (S1), the rest to Universitat Autònoma and Sabadell (S2). On 29 July 2015, S1 was extended underground through Terrassa with three new stations. The underground route through Sabadell was completed on 20 July 2017 after S2 trains had started serving a new underground station at Sabadell Plaça Major on 12 Sept 2016. Trains reach Terrassa and Sabadell every 10-12 minutes during off-peak hours, with Sant Cugat thus being served at least every 6 minutes.
- Línia Llobregat-Anoia: metre-gauge lines starting every few minutes from Pl. Espanya, running underground to Cornellà-Riera, then mostly above ground to Sant Boi and Molí Nou (L8), although most trains continue further on using different line numbers, to Martorell, from where regional services travel to Manresa (via Montserrat) or Igualada.
Rodalies de Catalunya (Renfe)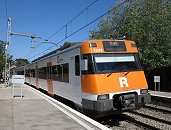 As part of the Catalan regional rail network, six Rodalies lines (R1-R4, R7-R8) are operated by Renfe on Iberian broad-gauge tracks.
Lines R1-R4 run underground through Barcelona, line R4 also serves undergound stations in Sabadell and Terrassa.
Books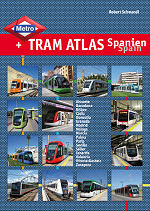 Robert Schwandl:
METRO & TRAM ATLAS Spanien | Spain
Alicante, Barcelona, Bilbao, Cádiz, Donostia/San Sebastián, Granada, Madrid, Málaga, Murcia, Palma, Parla, Sevilla, Sóller, Tenerife, Valencia, Vitoria-Gasteiz, Zaragoza

Numerous colour images, detailed network maps, Text deutsch/English, ISBN 978 3 936573 46 6, Sept. 2015, EUR 19.50
Robert Schwandl: METROS IN SPAIN. The Underground Railways of Madrid, Barcelona, Valencia and Bilbao.
Capital Transport Publishing, London, July 2001- ISBN 1854142429
Salmerón i Bosch, Carles: EL METRO DE BARCELONA: Història del ferrocarril metropolità de Barcelona.- Els Trens de Catalunya, Barcelona, 1992.
Salmerón i Bosch, Carles: EL METRO DE BARCELONA - II: Història i tècnica.- Els Trens de Catalunya, Barcelona, 1992.
These two volumes (in Catalan) give very detailed information on all aspects of the Barcelona Metro. They inlude many black & white photographs.
Transports Metropolitans de Barcelona (ed.): ELS NOMS DE LES ESTACIONS DEL METRO. - TMB, Barcelona, 1988. Explains the origin of station names (in Catalan) station by station (with colour photographs). Also published in Spanish.
Direcció General de Transports (Generalitat de Catalunya): METRO DE BARCELONA: Manual de Senyalització. - Generalitat de Catalunya, Barcelona, 1984. This book gave the guidelines for the new metro image in 1984 when lots of stations were renamed into Catalan.
Cabana, F.: ESTACIONS. - Lunwerg Editores, 1998. ISBN 84-7782-522-X A kind of photo album of the Ferrocarrils de la Generalitat de Catalunya, including both underground and surface stations in and around Barcelona (in Catalan with Spanish and English summary).

Links
ATM-TransMet (Autoritat del Transport Metropolità) - includes description of new projects
TMB - Transports Metropolitans de Barcelona - Official Metro site
FGC - Ferrocarrils de la Generalitat de Catalunya - Catalan Railways Suburban Service (Metro del Vallès and Metro del Baix Llobregat)
RENFE Rodalies (Cercanías) - Spanish National Railways Suburban Service / S-Bahn
Journey Planner for Barcelona and Catalonia
---
Barcelona Metro at Wikipedia.cat
Trenscat - by Bernat Borràs - includes everything about railways in Catalonia
WEFER - by Marçal Guardiola (Metro and other Spanish Rail - not updated!)
Blog about Barcelona Metro issues
Blog about L9/L10 construction project
Barcelona Metro track map from carto.metro
Gran Metropolitano - thorough report about the origins of Barcelona's first metro line, by Alex Reyes
BLOG: Read your webmaster's impressions of urban rail transport in Barcelona (Jan 2013 | May 2015) and a special post on L9 Sud (Feb 2016)
---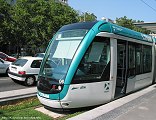 Tram Barcelona (Official Site)

Barcelona Tram on UrbanRail.Net