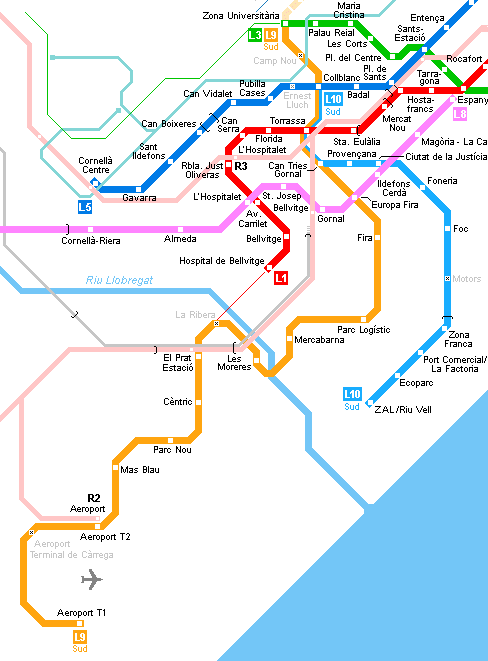 Click on photo to view more of each station!
BLOG: Read your webmaster's impressions of L9 Sud (Feb 2016) here!
Zona Universitària

12-02-2016

Camp Nou

To open together with the unbuilt central part of the line (~2023)

Collblanc

12-02-2016

Torrassa

12-02-2016

Can Tries | Gornal

---

12-02-2016

Since Sept 2018, junction for line L10 to Zona Franca

Europa | Fira

12-02-2016

Fira

12-02-2016

Parc LogÝstic

12-02-2016

Mercabarna

12-02-2016




Les Moreres

12-02-2016

La Ribera

To open when area around the station sees some urban development

El Prat Estaciˇ

12-02-2016

Cèntric

12-02-2016

Parc Nou

12-02-2016

Mas Blau

12-02-2016

Aeroport T2

12-02-2016

Station serving old airport terminal with some low-cost carriers

Aeroport Terminal de Càrrega
To open when demand grows

Aeroport T1

12-02-2016

Station serving new airport terminal with major airlines

Provençana
02-03-2019

Ciutat de la Justícia

23-11-2019

Interchange with L8 implies a short walk on street level

Foneria
08-09-2018

Foc
08-09-2018

Motors
(2026)

Zona Franca

01-02-2020

First elevated metro station in Barcelona

Port Comercial
07-11-2021

Ecopark
07-11-2021

ZAL/Riu Vell
07-11-2021
Special Features of Line L9/L10 Sud:
Total length (in operation): 20 km, 15 stations (L9 Sud) + 8.6 km, 8 stations (L10 Sud)
European standard track gauge of 1435 mm
Operated in driverless mode
Eventually Line 9/10 will run like a semicircular line from the Airport and Passeig de la Zona Franca to Zona UniversitÓria, further on to SarriÓ and Lesseps and via Guinardˇ and Sagrera-Meridiana to the planned Sagrera AVE Railway Station. Then north to Bon Pastor and under the Bes˛s river splitting into two branches, one to Santa Coloma (Can Zam) and one to Badalona (Gorg - L2). Construction from Sagrera-Meridiana (L1, L5) north to Can Zam and Gorg began in late 2001. L9/10 is being excavated by tunnel boring machines at great depth, with a 12 m diameter tunnel, which allows trains to run on top of each other. Most stations will be located inside this tunnel and be accessible by lifts. The line is operated in driverless mode and the stations are therefore equipped with platform screen doors. Part of the Zona Franca leg in the south will be elevated. The project has repeatedly been modified, especially in the airport area. The first section of this 46.6 km long line was due to open in 2005 from Fondo to Can Zam, but was only brought into service in Dec. 2009, with the second of the two northern branches following in 2010. The isolated L9 Sud began operation in Feb. 2016, followed by the first section of L10 Sud in Sept 2018.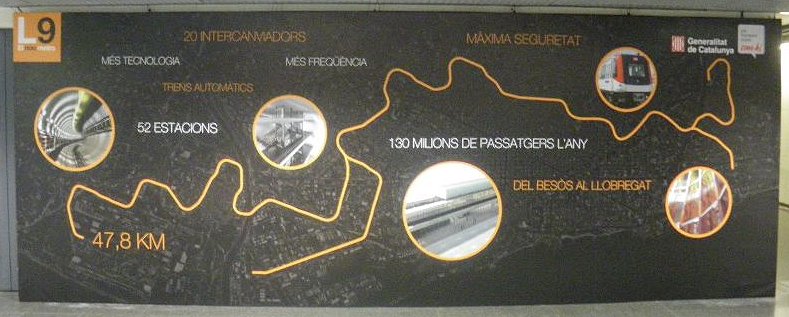 Photo © DavoR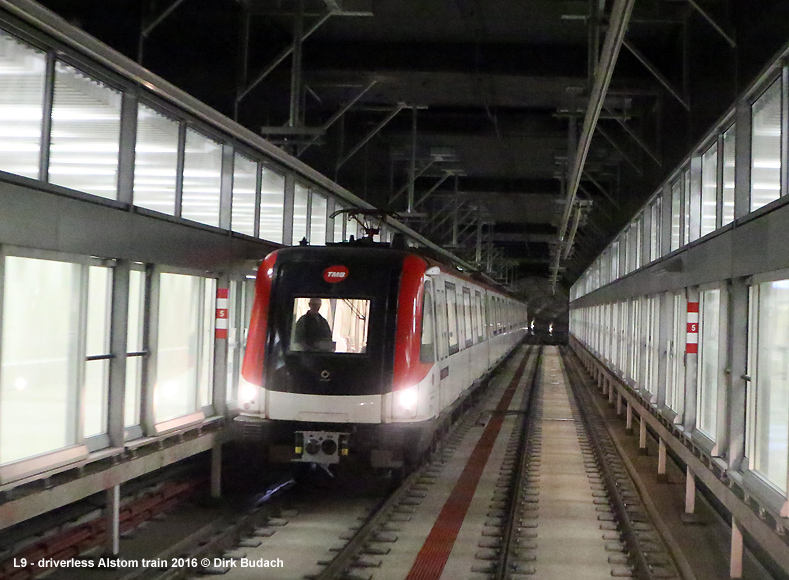 ---
2009 © UrbanRail.Net (Robert Schwandl)