SUBWAY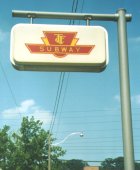 With more than 5 million inhabitants in the metropolitan area, Toronto is the largest city in Canada.
TTC (Toronto Transit Commission) operates three full metro lines (1495 mm gauge) and one short light rail type line (Scarborough RT). Apart from these rapid transit rail lines there is an 82 km long streetcar network as well as the GO Transit suburban rail service connecting with the metro at the central Union station and other stations.
Total length: 70 km (52 km underground, 8 km elevated, 10 km ground level)
Yonge-University-Spadina Subway
Downsview - Finch, 31 km, 32 stations, U-shaped line giving two north-south routes
30 Mar 1954: Eglinton - Union (7.4 km)
28 Feb 1963: Union - St.George
31 Mar 1973: Eglinton - York Mills
30 Mar 1974: York Mills - Finch
28 Jan 1978: St.George - Wilson
18 Jun 1987: North York Centre station added
31 Mar 1996: Wilson - Downsview
Bloor-Danforth Subway
Kipling - Kennedy, 27.5 km, 31 stations, east-west line parallel to Lake Ontario
26 Feb 1966: Keele - Woodbine
11 May 1968: Keele - Islington, Woodbine - Warden
22 Nov 1980: Islington - Kipling, Warden - Kennedy
Sheppard Subway
Sheppard/Yonge - Don Mills, 6.4 km, 5 stations
24 Nov 2002 - Sheppard/Yonge - Don Mills
Scarborough RT
Kennedy - McCowan, 6.4 km, 6 stations, driverless small-profile metro, partly elevated and partly at grade (around Ellesmere and Lawrence East stations), to be converted to light rail and integrated with the future CrossTown Line
24 May 1985 - Kennedy - McCowan
Projects
The Yonge-University-Spadina Subway is being extended from Downsview to Vaughan Metropolitan Centre via York University (8.6 km; 6 stations). See official website with project details! Scheduled to open in late 2015.
The Sheppard Subway might eventually reach Scarborough Centre in the east and Downsview in the west.
The 19 km Eglinton Crosstown LRT, now under construction, will include a 9.8 km underground section. The new line will be operated with low-floor vehicles and run mostly along Eglinton Road, before integrating the current Scarborough RT line at Kennedy station. (Official Project Website)
See Miguel Syyap's map for more detailed projects. View PDF for Transit Project Details.
Photos
Links
TTC (Offcial Site) - Subway and Streetcar Operator
GO Transit - Toronto Area Commuter Rail Home Page
Metrolinx - Ontario Transport Planning Authority
James Bow's The Transit Toronto Website - Subways & Streetcars
incl. Sheppard Subway Extension and Eglinton West Subway project
Toronto Transit at nycsubway.org
Toronto Transit at Wikipedia
Miguel Syyap's Network Map incl. future lines and VIVA bus rapid transit
Toronto's ghost station Lower Bay
Steve Munro discusses Toronto transit issues