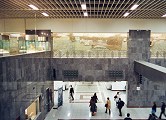 At first, this line was perceived as a branch of Line 2 branching off at Syntagma and going to Ambelokipi, but later evolved into a separate line, planned to run from Egaleo in the west to Gerakas in the north-east. The line approved for construction in the late 1980s was from Keramikos (about 200m. north of Line 1's Thissio station) to the west of the city centre, to the Pentagon (Ethniki Amyna) in the north-east. Eventually, the instability of the ground in the area west of Syntagma, as well as the larger number of ancient remains than expected, led to the curtailing of the line to Monastiraki. Even there, the opening was delayed for three years because of building difficulties. To avoid collapse of the tunnel to Monastiraki, smaller bore tunnels were dug around it using miniature TBMs and these were filled with concrete to stabilise the soil. Monastiraki offers interchange with Line 1 and its traditional ticket hall building was renovated and restored, while a second entrance was provided at Athenas Street. Monastiraki opened on 22 April 2003.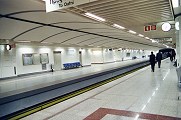 At Syntagma, the Line 3 platforms are located just below those of Line 2 and at right angles. The original stretch of Line 3 then runs via stations at Evangelismos, Megaro Moussikis, Ambelokipi, Panormou and Katehaki to the Pentagon, subsequently renamed Ethniki Amyna. Except for the former terminus, all other stations have two side platforms. In July 2004, an extension was opened to Doukissis Plakentias station. Originally, there was only one intermediate station at Halandri, but two more were already partly built at Holargos and Nomismatokopio (Mint), with one more planned at Aghia Paraskevi. These three intermediate stations eventually opened in 2009/2010.
At Doukissis Plakentias, some trains surface and change power supply from 750V dc third rail to 25kv ac overhead, and run on the same tracks as the Suburban Rail to the Athens Airport, "Eleftherios Venizelos", 21 km away. The three intermediate stations on this stretch were skipped by metro trains for the first two years because they did not have the infrastructure to accept them, since they were designed for Suburban Rail trains which have lower floors and wider bodies.
Apart from the additional stations on the eastern extension, an extension is under construction to the west to Haidari, with the first section to Egaleo open since May 2007, with intermediate stations at Kerameikos (planned as Votanicos; interchange with the Suburban Rail), Eleonas (planned as Aghios Savvas, where the new Line 3 depot is located, and assigning Sepolia depot exclusively to Line 2 trains). A 1-station extension to Aghia Marina (planned as Haidari) followed in late 2013. Eventually, in July 2020, Line 3 reached Nikaia, with the rest of the 7.6 km Piraeus extension, which started constructed in 2012, expected in 2022. (Project Website)
28 Jan 2000: L3 Ethniki Amyna - Syntagma (8.5 km)
22 Apr 2003: L3 Syntagma - Monastiraki (1km)

24 Jul 2004: L3 Ethniki Amyna - Halandri
28 Jul 2004: L3 Halandri - Doukissis Plakentias
30 Jul 2004: through services from Doukissis Plakentias over the Suburban Rail tracks to the Athens Airport
10 Jul 2006: L3 trains stopping at Peania-Kantza and Koropi on the Airport route
Sept 2006: L3 trains stopping at Pallini on the Airport route
26 May 2007: L3 Monastiraki - Egaleo
02 Sept 2009: L3 Nomismatokopio station added
23 July 2010: L3 Holargos station added
30 Dec 2010: L3 Ag. Paraskevi station added
14 Dec 2013: L3 Egaleo - Aghia Marina
07 July 2020: L3 Aghia Marina - Nikaia (4 km)