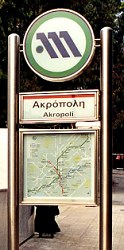 Line 1, or the "Electricos" as it is colloquially referred to, was integrated into the Metro system although it is an adapted suburban railway and under different ownership. The "real" metro of Athens is Lines 2 and 3, which both opened on 28 January 2000.
The idea for a metro was first perceived in the 1950s, and the plans called for an underground line starting from the main Athens railway station (Larissa Station) to Syntagma, where it would fork into two branches, one to Faliro and Glyfada and the other to Ambelokipi.
No works were carried out until the mid-1970s, when the first preparatory drillings started in central Athens, but there it finished.
Increasing traffic and pollution problems led, in the 1980s, to the decision to eventually proceed with the building of a new Metro for Athens. The plans were revised, to include two completely separate lines, one from Peristeri in the north-west to Glyfada in the south, and the other from Egaleo in the west to Gerakas in the east. In the early 1990s, construction of the lines, but in a shorter form, were approved and works started. Building difficulties meant that it was not until 2000 that the first sections became operational.
The first section of Line 2 opened on 28 January 2000, between Sepolia in the north-west to Syntagma in the city centre. The line includes two interchanges with Line 1 at Attiki and Omonia, with the Main Line and Suburban Rail trains at Larissa Station, and two more stations at Metaxourghio and Panepistimio (University). The project also included a depot at Sepolia, which is used to stable and overhaul trains of Lines 2 and 3, as well as to commission any new rolling stock for all three lines.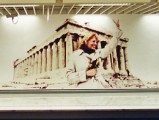 An extension to Dafni was opened in November of the same year, with intermediate stations at Akropoli, Sygrou-Fix, Neos Kosmos and Aghios Ioannis. On 5 June 2004, an extension was opened to the south with a new station at Agios Dimitrios, named "Alexandros Panagoulis". A further extension to Aghios Antonios opened in Aug 2004, which crosses under the river Kifissos and brought the metro to the deprived areas of western Athens. It is the first "bioclimatic" station on the metro, using natural resources such as sunlight and plantation to the maximum. The northern extension to Anthoupoli was finally brought into service in April 2013.
All stations on this line are underground, at 18 m below the surface except for Omonia, which is 33 m below the surface. Except Ag.Dimitrios/Al.Panagoulis which has a central island, all others have side platforms.
A southern 5.5 km extension to Line 2 started construction from Ag. Dimitrios/Alexandros Panagoulis to Elliniko (with intermediate stations at Ilioupoli, Alimos and Argyroupoli) in summer 2006, and although once planned for completion in 2009, it was not opened until July 2013. Initially planned to run elevated, the new extension was eventually built fully underground. Later a new section leading to Glyfada on the seaside may be added.
Line 2 now uses 16 trains and services run every 4-10 minutes. Lines 2 and 3 use their own fleet, with 28 trains built in Germany and France in 1998-99 and a further 21 built in Korea in 2004.