Ópera

27-12-1925

At Ópera there is only a single platform for Line R, with same-level interchange to Line 2 in direction Cuatro Caminos.

Príncipe Pío

27-12-1925

At Príncipe Pío there are two side platforms, although during normal service all trains use the eastern one which provides easy transfer to Lines 6 and 10, which stop on the lower level.
Special Features of Branch Line R:
Total length: 1.1 km - 2 stations
Small profile line with 60 m long platforms (4-car trains of class 3000 in service), double-track.
R stands for Ramal (branch) and is a shuttle service between Ópera (L-2 and L-5) in the city centre and Príncipe Pío (Estación del Norte - L-6 and L-10, Cercanías) which lies down by the Manzanares river. Estación del Norte used to be the main terminus for trains arriving from Northwestern Spain. In recent years the former mainline station has been converted into a shopping mall and an urban transport interchange.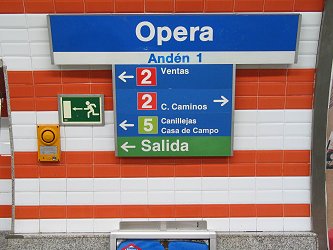 ---
2006 © UrbanRail.Net (Robert Schwandl)