System
With some 600,000 inhabitants, Essen is among Germany's ten largest cities and the geographical heart of the Rhein-Ruhr-Area, while with some 175,000 inhabitants, Mülheim an der Ruhr is among the smaller cities in the region. Line 112 is operated jointly with STOAG, the local transport agency in Oberhausen (220,000 inhabitants). To the north of Oberhausen Hbf, line 112 runs on a dedicated right-of-way to Sterkrade, a route that is shared by CityExpress buses. This tram line also serves the new area referred to as Neue Mitte (CentrO).
Construction of a Stadtbahn network started in the early 1960's and included regauging of many routes from former 1000 mm to standard 1435 mm and the construction of underground sections in the city centre. The first 600 m underground section opened in 1967 along Huysenallee with one station, Saalbau (now Philharmonie). In the early 1970's a Stadtbahn network was planned for the whole Rhein-Ruhr area and the fast tram link between Essen and Mülheim was chosen as the first to be upgraded. It opened in 1977, partly underground and partly on the surface in the middle strip of the A40 motorway. Subsequently a small underground network was realised.
In 2017, Essen's EVAG and Mülheim's MVG merged to become known as 'RUHRBAHN'.
STADTBAHN
Line U18 from Essen to Mülheim could be classified as a real metro as it runs independent from road traffic all along its route, where lines U11 and U17 have surface sections with level crossings. Ex-Docklands Light Rail vehicles, now repainted yellow, are in use in Essen. The section between Hauptbahnhof and Martinstraße is also used by some 1000 mm tramway lines (3-rail-tracks), which stop at high-level platforms here. Since the mid-1990's the northern route was extended in two stages, first to Altenessen Bahnhof (1998) and further on to II.Schichtstraße from where U11 trains continue on the surface to Buerer Straße in Gelsenkirchen. The surface on-street section of U17 to Margarethenhöhe was upgraded in 2002 with high platforms at all stops.
- Stadtbahn route length - 27.5 km (of which 1.9 km are shared with trams)
- Rolling stock - DUEWAG B-cars (1976-1985); ex-DLR P86 and P89 cars (1986-1989)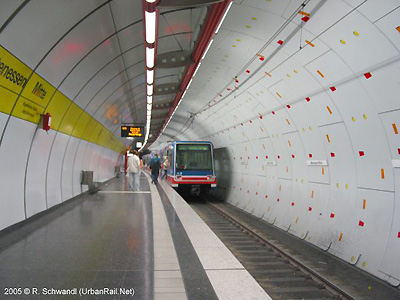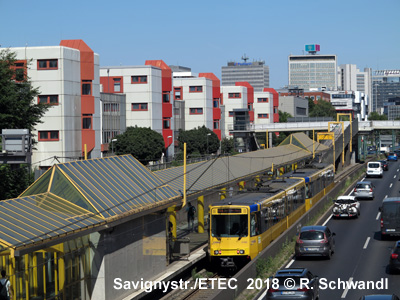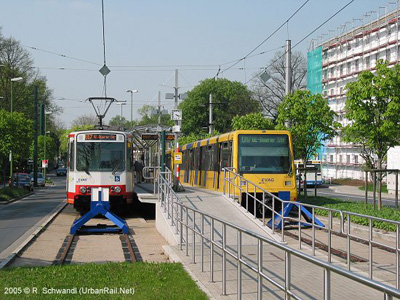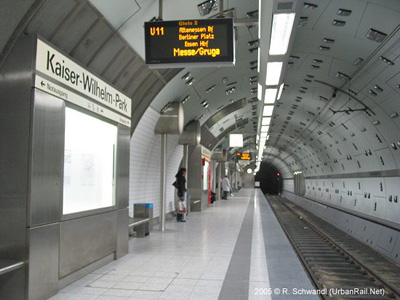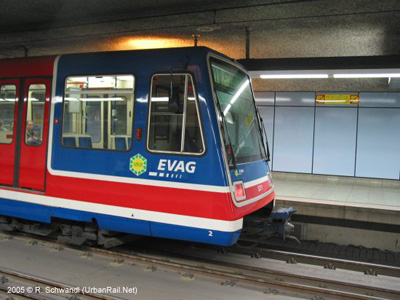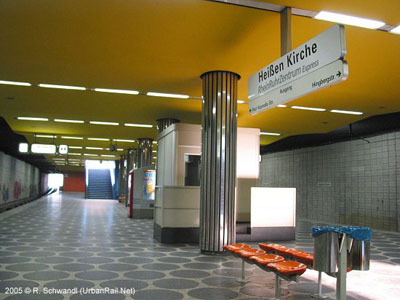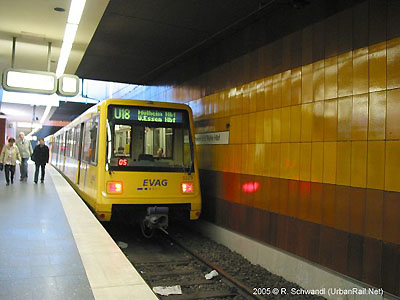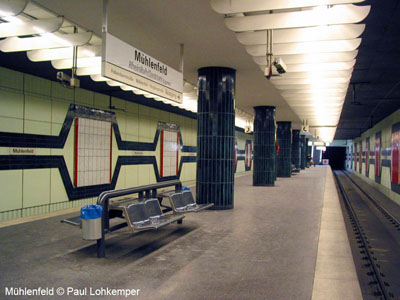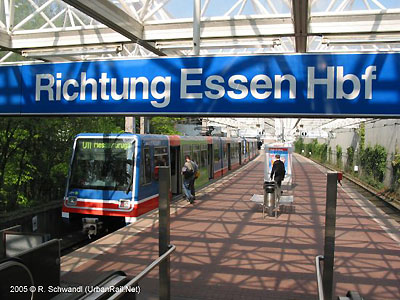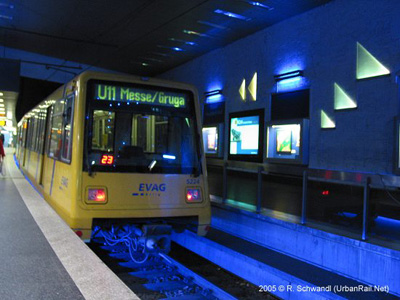 TRAM
Besides the Stadtbahn, Essen and Mülheim boast several tram lines, most of which run through some underground section at some stage. The route between Essen Hauptbahnhof and Martinstraße is equipped with 3-rail tracks for use by Stadtbahn and high-floor tram cars.
- tram route length approx. 87 km (of which 1.9 km are shared with Stadtbahn) including Duisburg's line 901 in Mülheim
- Rolling stock: DUEWAG M8S (1975-76); DUEWAG M8C (1979-1989, high-floor with folding steps for lines 101 and 107); DWA/Adtranz M8DNF (low-floor, 1999-2000); Bombardier Flexity Classic (2014-)
19-10-2014: ThyssenKrupp - Alfred-Krupp-Schule (Line 109, 1.3 km)
In Mülheim, three trams sections have closed in recent years:
[x] Hauptfriedhof - Flughafen (line 104) permanently out of service as of 7 Dec 2014 (1.9 km)
[x] Mülheim-West - Friesenstraße (line 110) permanently out of service as of 4 Oct 2015 (1.8 km)
[x] Wertgasse - Oppspring (line 104) permanently out of service as of 7 Aug 2023 (2.8 km) > line 104 now terminates at Kaiserplatz until a new terminus is completed at Ev. Krankenhaus (Wertgasse)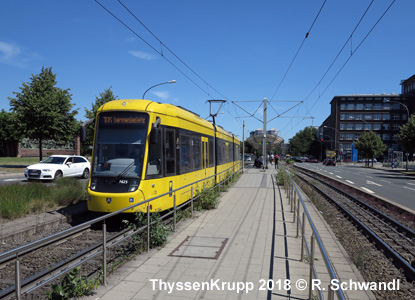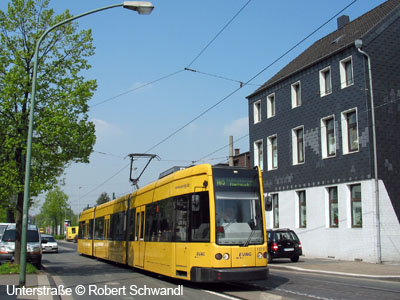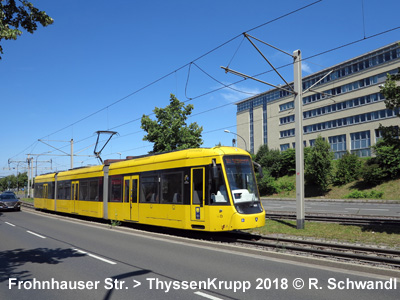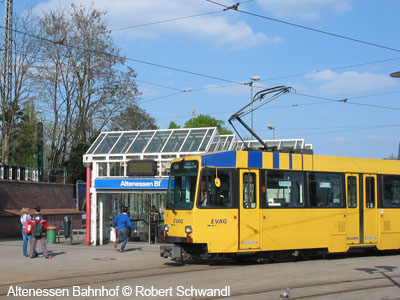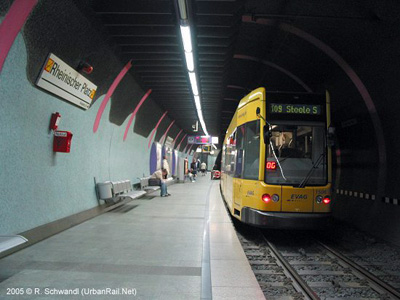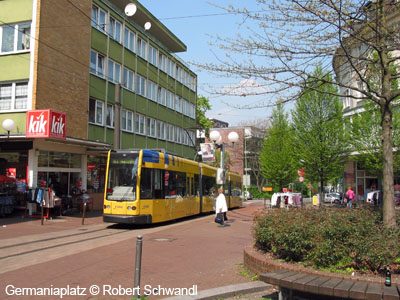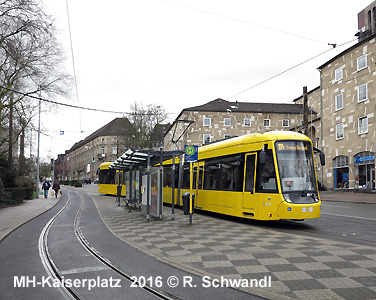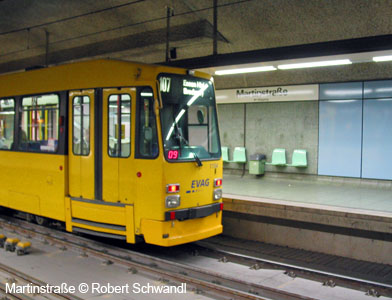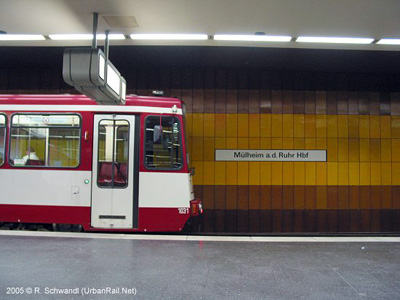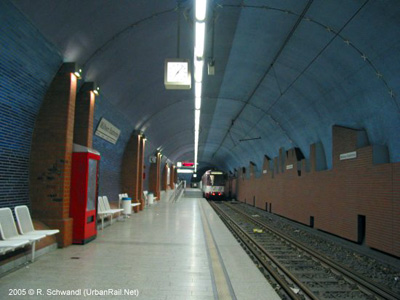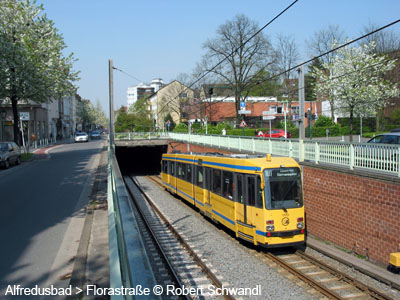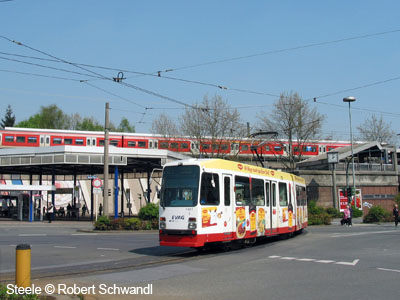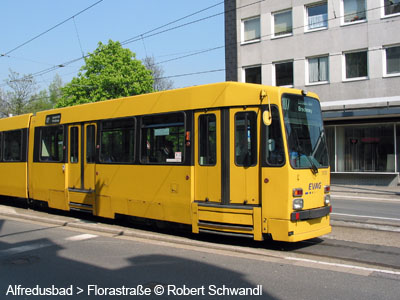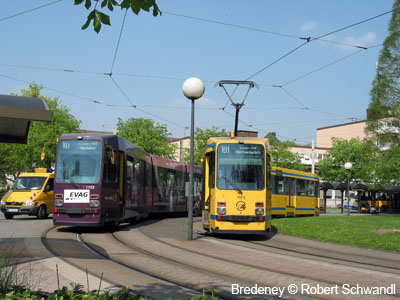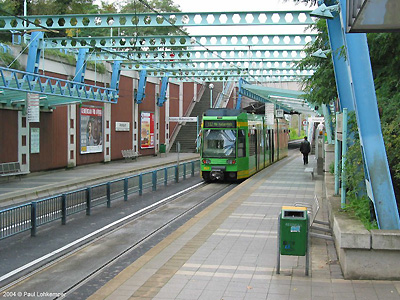 History of Stadtbahn and tram tunnel sections
05 Oct. 1967 - Saalbau (now Philharmonie/Saalbau)
28 May 1977 - U18 - Wiener Platz (now Hirschlandplatz) - Heißen Kirche (8.2 km, 2 km underground)
28 May 1977 - Saalbau - Hauptbahnhof - Porscheplatz (2 km)
03 Nov 1979 - U18 Heißen Kirche - Mülheim Hauptbahnhof (2.8 km)
27 Nov 1981 - U17 - Universität - Planckstr. - Margarethenhöhe (3.6 km underground)
27 Apr 1985 - Mülheim Hauptbahnhof - Aktienstraße - ramp (1.5 km)
27 Sept 1985 - Porscheplatz - Viehofer Platz - Schützenbahn ramp
31 May 1986 - U11 Saalbau - Gruga and Florastr. (3-rail-section)
09 Nov 1991 - Porscheplatz - Berliner Platz
24 May 1998 - Universität - Altenessen (2.5 km)
19 Sept 1998 - Mülheim Hauptbahnhof - Schloss Broich (2 km)
29 Sept 2001 - U11/U17 Altenessen - Karlsplatz - ramp - GE-Fischerstraße
27 Jun 2004 - U17 GE-Fischerstraße - GE-Buerer Straße

Links
RUHRBAHN (Essen/Mülheim Transport - official)
VRR (Tariff System Rhein-Ruhr) incl. maps and timetables
Trambilderbuch incl. many photos
Essen Track Map at gleisplanweb.de
Books
---
Our books about Urban Rail in Germany

Robert Schwandl:

- June 2019, Berlin, ISBN 978 3 836573 60 2.

- Detailed colour maps for more than 50 German tramway cities, illustrated with numerous photos

- Text German and English

Robert Schwandl:

- Feb 2019, Berlin, ISBN 978 3 836573 57 2

- Anything you need to know about German metro and light rail systems with underground sections, with detailed maps and hundreds of colour photos; 160 pages; Text German and English - More details
Tram in Oberhausen