Total length: 19.9 km (17 km underground) - 29 stations
Large-profile line with ~100 m long platforms (6-car trains of F and H stock).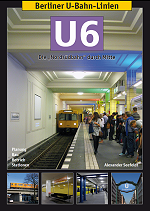 Line U6 operates every 5 minutes through the day.
Line U6 was the first large-profile line when it opened in 1923. It runs along Friedrichstraße, Berlin's major north-south axis in the city centre. Initially the former Line C had two southern branches, but the eastern branch from Mehringdamm to Britz-Süd was transferred to the new line U7 in 1966.
As with line U8, the stations in the city centre were skipped between 1961 and 1990, with the exception of Friedrichstraße, which remained open to provide transfer to the West Berlin S-Bahn routes or allow certain pedestrians to cross the border.
In the 1950s and 1960s, line U6 was extended at both ends to become Berlin's busiest north-south line. The northern extension to Tegel includes a 3-station elevated section.
30-01-1923: Hallesches Tor - Stettiner Bahnhof (now Naturkundemuseum)
08-03-1923: Stettiner Bahnhof - Seestraße
19-04-1924: Hallesches Tor - Belle-Alliance-Straße (now Mehringdamm) [- Gneisenaustraße U7]
14-02-1926: Mehringdamm - Kreuzberg (now Platz der Luftbrücke)
10-09-1927: Kreuzberg - Flughafen (now Paradestraße)
22-12-1929: Flughafen - Tempelhof
03-05-1956: Seestraße - Kurt-Schumacher-Platz
31-05-1958: Kurt-Schumacher-Platz - Tegel (now Alt-Tegel)
28-02-1966: Tempelhof - Alt-Mariendorf
04-12-2020: Französische Straße closed and replaced by Unter den Linden