Total length: 22 km (8.5 km surface) - 26 stations
Large-profile line with ~110 m long platforms (6-car trains of F and H stock in service; plus 8-car trains of IK stock with side boards).
On line U5, every other train terminates at Kaulsdorf-Nord during off-peak hours.
The present U5 basically consists of an underground section opened in 1930 and a surface extension completed in 1988/89, with a short underground section from 1973 in between. Line U5 was once entirely located in East Berlin and was the only large-profile line in that part of the city. Although a western extension had been envisaged from the 1930s, this was not completed until 2020. Operated as an isolated line, U55 eventually started operating a 3-station shuttle service in 2009. In 2010, construction started on the missing section between Alexanderplatz and Brandenburger Tor with intermediate stations at Unter den Linden (transfer to line U6), Museumsinsel (Humboldtforum / Schlossplatz) and Rotes Rathaus (City Hall). The shuttle service on line U55 stopped on 17 March 2020 (due to the Covid-19 lockdown, earlier than initially scheduled) to allow its integration into the extended U5, which opened on 4 Dec 2020.
U5/U55 from 2009 to 2020:
18.3 km (8.5 km surface) +1.5 km (U55) - 20 stations + 3 (U55)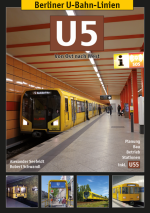 Click here to view photos taken during a tunnel walk on 27 May 2004.
21-12-1930: Alexanderplatz - Friedrichsfelde
25-06-1973: Friedrichsfelde - Tierpark
01-07-1988: Tierpark - Elsterwerdaer Platz
01-07-1989: Elsterwerdaer Platz - Hönow
08-08-2009: Hauptbahnhof - Brandenburger Tor
04-12-2020: Brandenburger Tor - Alexanderplatz (except Museumsinsel)
09-07-2021: + Museumsinsel
---
Alexander Seefeldt & Robert Schwandl: Berliner U-Bahn-Linien - U5 Von Ost nach West. - 2. Aufl. Mai 2013, ISBN 978 3 836573 36 7 More info
Anlässlich der Eröffnung des U-Bahnhofs Museumsinsel im Juli 2021: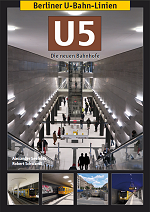 U5 - Die neuen Bahnhöfe
[Download PDF]