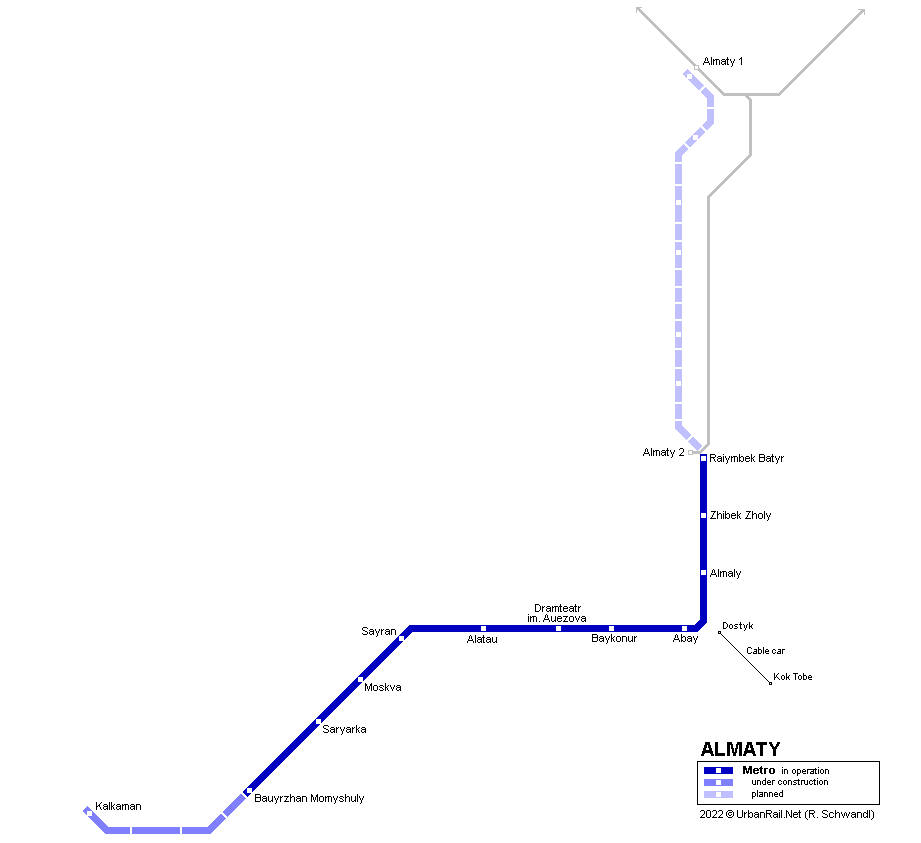 ALMATY
Almaty (Alma Ata) has about 1.4 million inhabitants and used to be the capital of Kazakhstan before the government moved to Astana in 1997.
---
Construction of the first metro line began in 1988, but was suspended after the dissolution of the former Soviet Union.
The section of line 1 finally opened in 2011 was 7.6 km and included 7 stations. The eastern part of the line runs north-south below Ul. Furmanova, and then turns west along Prospekt Abaya. Four out of seven stations are deep-level. With the 2-station extension in 2015, the metro line is now 10.3 km long.
The line is operated with seven 4-car trains, produced by Hyundai Rotem of South Korea.
History
01 Dec 2011: Raiymbek Batyr - Alatau
18 Apr 2015: Alatau - Moskva (2.74 km)
Projects
1) Western extension consisting of 3 stations (Saryarka, Dostyk, Kalkaman) to connect the centre of Almaty to the suburb of Kalkaman (8.62 km), under construction or planned.
2) Northern extension
3) A second line to intersect with the first line at Alatau and Zhibek Zholy
Photos
Raiymbek Batyr:
Zhibek Zholy:
Almaly:
Abay:
Baykonur:
Dramteatr im. Auezova:
Alatau:
Photos © Maxim Golbrayht (except where indicated)

Links
Almaty Metro (Official Site)
Almaty Metro (Official Site 2)
Almaty Metro at Wikipedia (then click Russian version for more details)
Article in Kontinent (Svet v konce tunnelya)
Almaty Metro Track Map by Vladislav Prudnikov
2007 © Robert Schwandl (UrbanRail.Net)