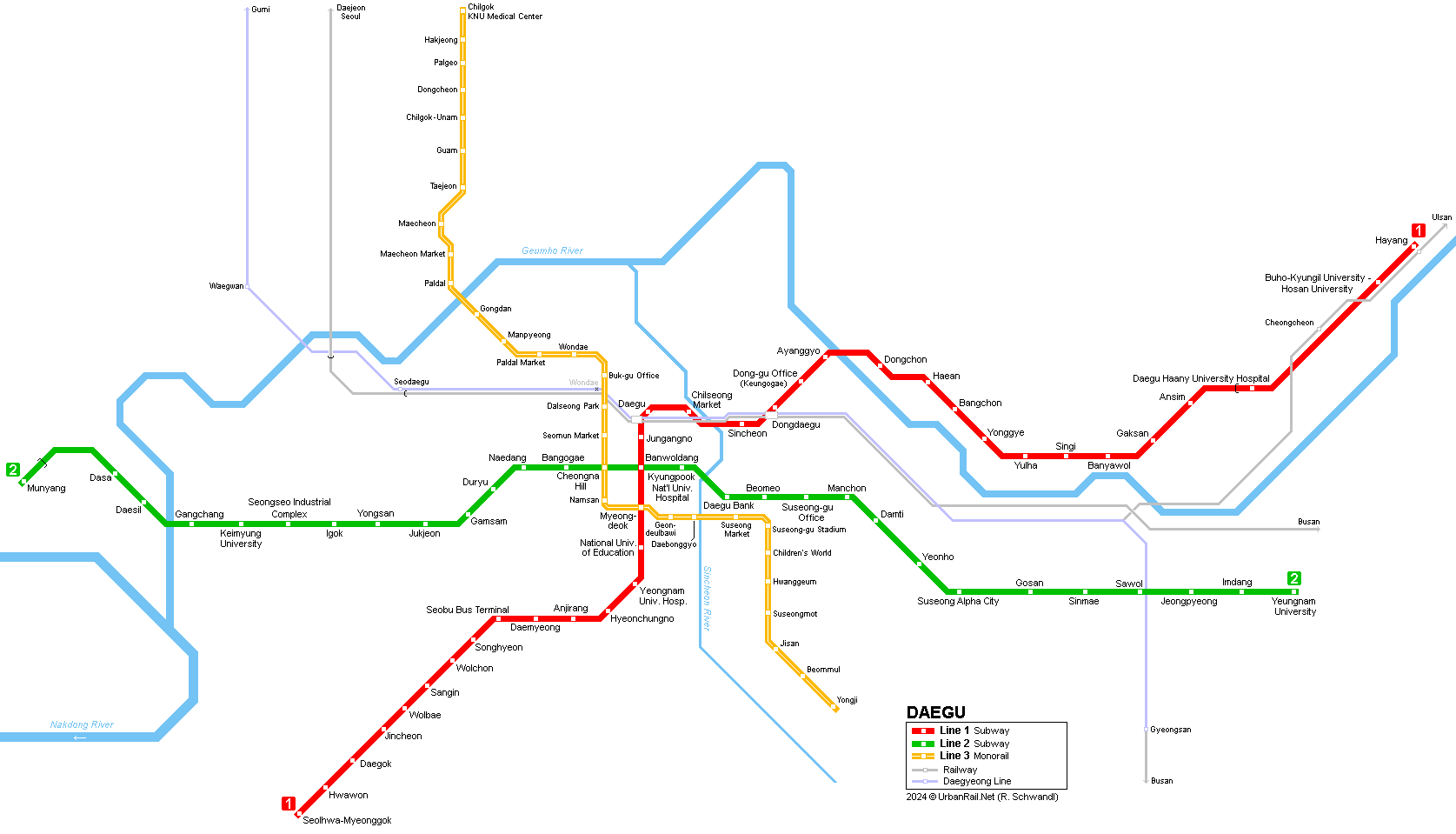 SUBWAY
Daegu* has some 2.5 million inhabitants and lies in the south of the Korean peninsula, about 120 km north of Busan.
Construction of the Daegu subway started in 1992. A network with 6 lines to be built in 3 stages is planned. Phase 1 initially included 3 lines to be completed by 2007, but apparently it will take longer to finish. Subway Line 3 was to link Chilgok to Beommul (21.5 km), but it is now being built as a monorail line.
Line 1
Daegok - Ansim, 28.4 km with 32 stations
Line 1 was inaugurated in two stages in 1997/98 with 29 stations (25 km) and 149 m long platforms. A 0.7 km extension towards the southwest was added in May 2002. All stations and all 216 subway cars have air-conditioning. One train consists of six 17.5 m long cars. A trip along the entire line takes 50 minutes.
26 Nov 1997: Jincheon - Jungangno
02 May 1998: Jungangno - Ansim
10 May 2002: Jincheon - Daegok
08 Sept 2016: Daegok - Seolhwa-Myeonggok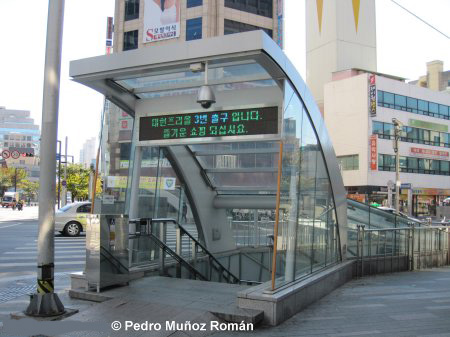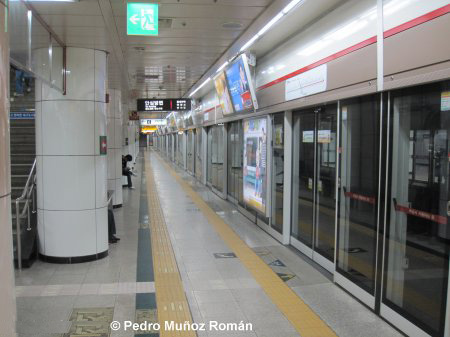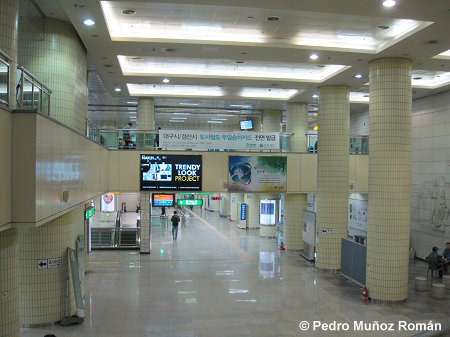 Line 2
Munyang - Yeongnam University, 31.4 km with 29 stations
Construction of Line 2 began 1997. The initial 28 km line (26 stations) opened in Oct 2005. Line 2 intersects with Line 1 at Banwoldang in the city centre. It was extended east by 3.4 km to Yeongnam University in Sept 2012.
18 Oct 2005: Munyang - Sawol
19 Sept 2012: Sawol - Yeongnam University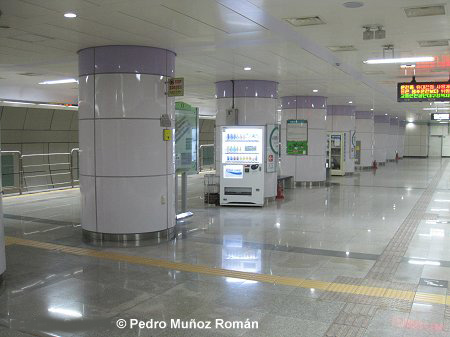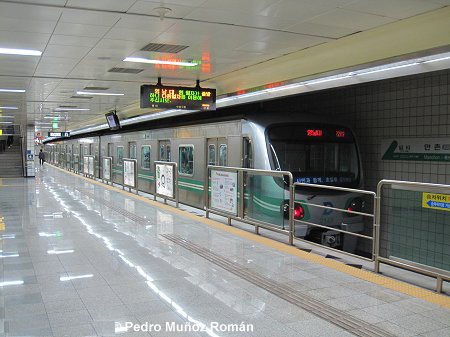 Line 3 - Monorail
23 Apr 2015: KNU Medical Center - Yongji
The contract for the construction of a 24 km driverless monorail line was awarded to Hitachi, Ltd., Transportation Systems in 2008. The line has 30 elevated stations, and runs from Chilgok in the northwest to Dong-A Suseong in the southeast. It intersects with Line 2 at Sinnam (formerly Seomun Market) station, and with Line 1 at Myeongdeok Station.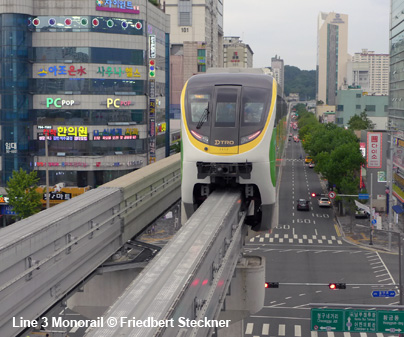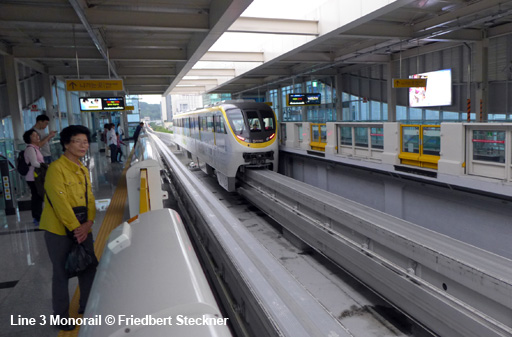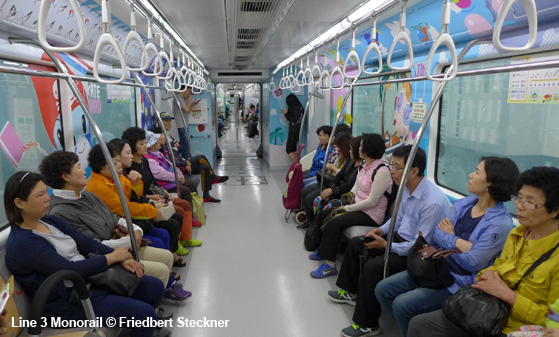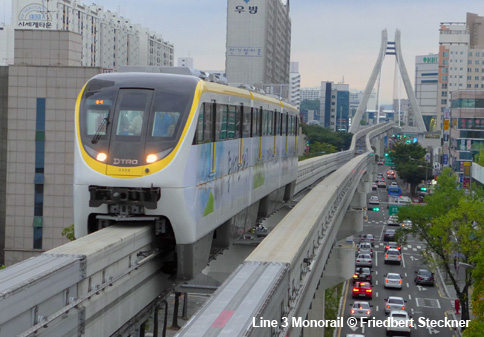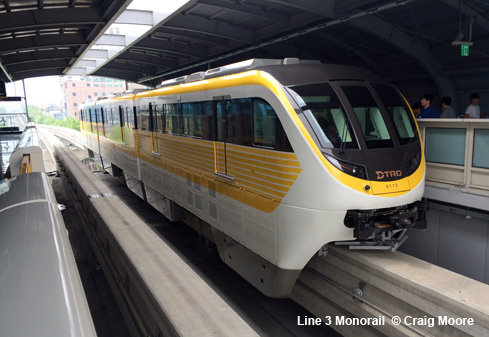 Photos
Projects
Line 1 of Daegu's subway is being extended from Ansim to Sabok (1.3 km).
Links
Daegu Metropolitan Subway (Official Site)
Daegu Subway at Wikipedia
Report
In July 2017, Craig Moore sent his impressions of the Daegu Metro system:
The Daegu Metro is a three-line Metro system consisting of 2 full metro lines and a monorail. The two metro lines operate in a flattened 'x' shape running east to west/south west. Line 1 is fully underground at 28.4km and calls at both the KTX (Dongdaegu) and central rail station as well as running down the main north-south corridor in the city centre. It then runs southwest to Sangin and the newly extended section around Hwawon. Line 2 is the longest line at 31.4km and runs east-west underground until the western terminus at Munyang where a 1.1km grade section provides access to the sheds. This area has quite a rural outlook and is surrounded by mountain vistas. Munyang station itself has an interesting station safety system where a series of narrow wires form a barrier at the platform edge. These are held in place by vertical poles installed along the platform; when a train arrives the wires rise and compress above the door height, providing exit/access to trains: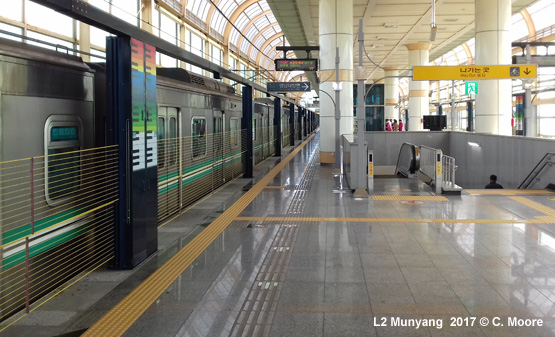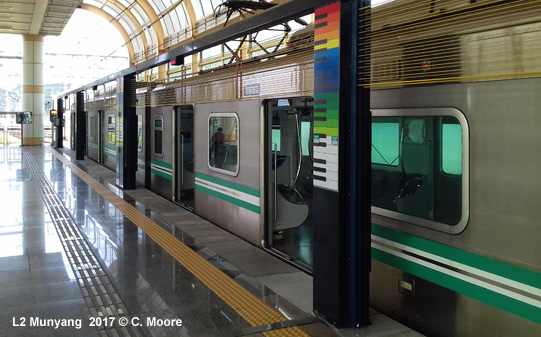 The stations on both lines are quite basic with small tiles, full screens and no RTI. There is also a shortage of escalators. Timetables are in sticker form on ticket machines (8min headway) and are also posted discreetly on walls on the platform. Platforms also have a basic geographic map. The Rotem stock is in 6-car form although all stations are built for 8 cars. There is side seating and a very smart schematic map (there are different versions and no single uniform schematic) but some of these maps are shown in a 'direction of travel' form and not geographically – this can be confusing. Line strip maps are also located above doors and show which stations have ticket barriers at the side of stations, which allow open access to the other directional platform and where there is interchange to other lines.
Line 3 is very different. The 23.1km monorail uses Hitachi 3-car stock and is fully above ground, running Northwest-Southeast via the city centre. It has some great bridges with modernistic design and the stations have half barriers with line information. The trains are fully automatic and have blinking windows which 'frost up' when the train passes close by buildings. The yellow tone of the stock is dominant at stations also and there is a very clean and bright feel, different from the standard underground offer. The line offers some great views of the city and its surrounding mountains and runs at 8min headways. In the city centre, the line twists and transfer to the other lines is via long escalators providing direct access to the different platform levels.
In general, wayfinding is acceptable and information (print/electronic/audio) is provided in English as well as Korean. Small hard-copy geographic maps are available at some stations, and flat fares operate (1400 Won) and come in token form. Although it cannot be describes as an elegant system, the Subway covers much of the city and the monorail is great for views. Any confusion soon gets sorted - as with the rest of Korea, staff and other passengers are incredibly friendly, humble and always ready to help.
*Daegu was formerly transliterated into English as Taegu.
2004 © UrbanRail.Net by Robert Schwandl
NEWS:
On January 22nd 2000, a sector for the Taegu subway under construction collapsed, killing three people, and the part of the city's main roads connecting the line under construction was closed. Taegu city has suffered the worst woes and accidents in South Korea. Not only the city purchased too many subway vehicles, but also construction cost too many lives of citizens living in the area. The worst subway construction accident occurred in Korea's 3rd largest city. The Taegu subway has claimed a total of 124 lives since its construction began in 1992. Of the victims of the subway disaster, 104 were people who were not related with the construction. And again, of the 104, eight were schoolboys. They lost their lives during the explosion that occurred in April 1995, which was the worst subway construction accident. Due to that accident, 101 citizens were killed. The Taegu city government suspended the construction of line 2 until further notice.
Seoul also suffered a fatal accident on October 2nd, 1994, when an oil carrier train crashed into the back of a commuter train, killing 3 and injuring 44. But the worst subway collision occurred in Pusan's metro line No.1 in 1987. Although there were no lives lost at that time, 78 passengers were injured, due to a brake failure of an out-of-service train that ran into a packed train.
Peter Kim Hee Tae, Seoul Correspondent, January 25th, 2000
-----------------------------------------------------
Taegu Subway corporation has trouble with the system. The city bought trains and rolling stock that could carry up to 610,000 a day, but the trains carry only 142,000 passsengers a day. The population of South Korea's 3rd largest city has 2.5 million.
The Taegu city subway has a total of 138 metro cars in use.
Peter Kim Hee Tae, UrbanRail.Net Seoul Correspondent Nov 23, 1999
---
---