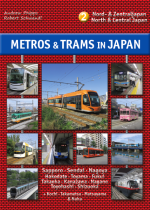 Andrew Phipps & Robert Schwandl:
METROS & TRAMS in JAPAN Vol. 2: Nord- und Zentraljapan | North & Central Japan
Metros in Sapporo, Sendai and Nagoya as well as trams in Hakodate, Toyama, Fukui, Takaoka, Toyohashi, Kochi, Matsuyama plus various other urban rail systems in North & Central Japan
144 pages; Network maps; ca. 300 colour photos
Text deutsch & English
ISBN 978 3 936573 52 7
03/2017
The second volume of our trilogy about urban rail systems in Japan covers all the systems in North and Central Japan, from the metros in Sapporo, Sendai and Nagoya to the numerous tram networks and various private suburban railways. This volume also includes all the cities with urban rail systems on the islands of Shikoku and Okinawa. As usual, the book is illustrated with a large number of recent colour photos and detailed network maps.