In January 2019, Craig Moore reports from Nanchang:
Nanchang (South-Prosperous) has a glorious, ancient past, and is also celebrated within contemporary Chinese history as the site of the first Communist uprising in 1927. The city joined the Metro family in late 2015 and today operates a two line, fully underground network of 47.3km (revenue km), hosting 40 stations.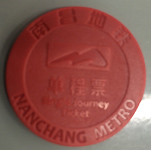 Line 1 is 28.5km (24 stations) and runs from Shuanggang in the northwest of the city, under the wide Gan River and along the main central east-west corridor to Yaohu Lake in the East of the urban area. It connects the Economic Development Zone, Donghu and Qingshanhu Districts and passes Bayi Monument, and the main commercial area of Bayi Square as well as providing access to Tengwang and the Uprising Museum. Services use CNR B type stock in 6 car formations and run from 0630-2230 with 7/8min base headways. The journey takes 59mins. Line 2 is 18.8km (17 stations) and operates from Metro Centre to the west of the Gan and travels south west to Nanchang West Station, the Provincial Government sector and south to Nanlu. CRRC B type stock is used in 6 car sets and the journey takes 35mins. Operating times and headways are identical to Line 1.
The Nanchang Metro is a standard Chinese system in many ways. Street entrances are angular-type buildings seen in much of China with totem and stairs to the ticket hall. The station lay-out is typical. The rectangular, gleaming entrance level is adorned with ticket machines (RFID token), security procedures, customer office and information boards, and occasional art works along the walls. Escalators and stairs provide access to island platforms with full screens, crowned with strip maps. There are RTI screens with advertising, toilets and seating together with system maps which have been future proofed to include several future lines. Station names are located on pillars along the platforms and there is also a beautiful large calligraphic station name on the stair walls. The newer Line 2 stations have a brighter feel and have quite beautiful 'bronze toned' calligraphic station names and a unique Line 2 logo. Platforms also have audio information which is activated a few seconds after passengers alight from incoming trains, informing them of safety and security procedures. Smart and well-signed, the platforms are functional but far from inspiring. The only transfer station is currently Metro Centre and this is different with a large circular space and interesting art works at entrance level and barriers located across the space at different angles. There is no platform to platform connectivity here and transferring passengers have to rise to the entrance level before dropping again to the alternate line (Line 2 is deeper). This makes the stairs, escalators and ticket hall very busy.
The rolling stock is also standard and pretty identical, but the newer CRRC stock on Line 2 has a little more coloured trim and a dynamic strip map as opposed to the standard static strip on Line 1 CNR stock. Both stock types have white interiors with metallic side seating and large amounts of standing room at the ends of carriages. There are no system maps on the trains but audio and electronic information is provided in Mandarin and English (American). Across the system, information boards offer a variety of maps and operating info, and wayfinding is of typical high Chinese standard. At Metro Centre there are also large floor arrows pointing passengers in the right direction. Hard copy information is available at main stations and the ticket machines are very straight forward to use (2-6 Yuan).
Overall, this is a decent and busy system which functions well. I have no doubt that as the network expands, it will take on its own character, but at the moment it is very typical of many Chinese lines from the expansive 2010-2014 period and there is little in terms of distinctive features.