System
The Egyptian capital Cairo (El Qahirah) has some 8.5 million inhabitants (12 million in the metropolitan area) and was the first city on the African continent to operate a metro system.
Line 1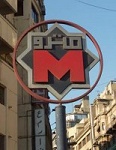 Line 1 was developed out of two suburban commuter rail lines which were connected through a tunnel in the city centre (44km). There are five air-conditioned underground stations with 200 m long platforms which are decorated with artistic elements related to Egyptian culture and history. The southern branch from the former health resort Helwan to Mubarak* (28.5km) (including new tunnel Sayyeda Zeinab - Mubarak*, 4.5km) opened in September 1987. Mubarak* station lies next to Cairo's main railway station under Ramses Square. The northern branch from Mubarak* to El Marg (14.5km) followed two years later. Due to its origin as a suburban line, the average station distance on this line is 1.5km. Line 1 has 35 stations, of which 5 are underground.
26 Sept 1987: Helwan - Mubarak (now Al Shohadaa)
05 April 1989: Mubarak (now Al Shohadaa) - El Marg
1999: El Marg - New El Marg
* Mubarak station was renamed into Al Shohadaa in May 2011.
Line 2

The original Line 2 opened in four stages during the second half of the 1990's to link the northern parts of the city to the centre before crossing the River Nile to reach Giza.
Later, contracts for the construction of a 2.5 km surface extension from Giza Suburbs (now Omm el Misryeen) to El Monib were awarded in Aug. 2001 to a consortium (Interinfra) led by Alstom. This section, which has one intermediate station Sakiet Mekky, opened in Jan. 2005. Some 13 km of the 21.7 km line is underground.
Lines 1 and 2 meet twice, once at the railway station (Al Shohadaa) and once at Sadat station which is located under Tahrir Square next to the Egyptian Museum. The Cairo Metro is part of Egypt's National Railways and uses 1435 mm gauge.
Oct 1996: Shubra - Mubarak (now Al Shohadaa) (8 km)
Sept 1998: Mubarak (now Al Shohadaa) - Sadat (3 km)
19 April 1999: Sadat - Cairo University (5.5 km, including Nile crossing)
08 Oct 2000: Cairo University - Omm El Misryeen (2.7 km)
17 Jan 2005: Omm El Misryeen - Monib (2.5 km)
Photos © Heike Fichtner, Christoph Groneck & Dietmar Bothe (
More photos
)
Line 3
Line 3 was originally planned to run from Embaba in the northwest to Salah Salem in the east crossing both existing lines in the city centre. Later the project was modified and the eastern leg will now end at the Airport. After Attaba (Line 2) it continues northeast through Abbasia and Heliopolis. In the west a branch from Kit Kat Square to Mohandiseen was added to the project. Line 3 will be 33 km with 29 stations, of which 27 will be underground. Since the first section opened in early 2012, the line has been extended in stages:
21-02-2012: Attaba - Abbasiya (4.3 km, 5 stations, underground)
07-05-2014: Abbasiya - Al Ahram
15-06-2019: Al Ahram - El Shams Club (4 km)
22-10-2019: Heliopolis Square station
16-08-2020: El Shams Club - Adly Mansour (7.5 km, elevated)
06 Oct 2022: Attaba – Kit-Kat (~4 km)
---
Capital Train
Suburban metro line (locally also referred to as 'Light Rail Transit'), connecting Adly Mansour (the present eastern L3 terminus) to Ramadan and the new Central Capital, featuring two eastern branches:
03 July 2022: Adly Mansour - Arts & Culture City (65 km) / Knowledge City (8.5 km)
More at Wikipedia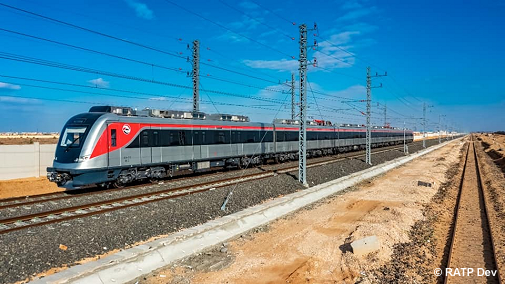 Projects

Line 3:
Phase 3: Attaba - Embaba / Mohandiseen; Attaba - Embaba 7.5km, 8 underground stations . Mohandiseen branch 3km, underground, 4 stations, interchange with Line 1, underground crossings of the two branches of the River Nile at Zamalek
Phase 4: 11km, Al Ahram - Cairo International Airport
a) Al Ahram - Alf Maskan, 3.3km underground, 3 stations
b) Alf Maskan - Cairo International Airport, 8.7km partly underground, 5 stations (3 underground and 2 at grade)
By 2022, 3 more lines are planned:
Line 4 crosses the metropolitan area from the southwest at Al Ahram to the east at Nasr City (24 km, crossing under the two branches of the River Nile)
Line 5 would be a half-circular line connecting the other lines, from Nasr City to Port Said Street and Shubra El Kheima (20 km).
Line 6 will be a 19 km north-south line, from Shubra to Maadi.
MONORAIL
Two fully driverless monorail lines planned/under construction, using Innova monorail trains from Bombardier (now Alstom) with Cityflo 300:
1) from East Cairo (Cairo Stadium station on metro line 3) to the New Administrative City (54 km)
2) from Giza to 6th of October City (42 km)
More info here!
Links
Cairo Metro (Official Site)
NAT-Egypt - National Authority for Tunnels
Mobility Cairo (Official RATP Dev website)
Cairo Metro at Wikipedia
Video: Cairo Metro (2020)
Light Rail & Trams
Metro Heliopolis was a metre-gauge light rail line, starting from Ramses Sq (Metro Al Shohadaa), then heading northeast, parallel to metro line 1, and finally in a cutting eastwards. This initial stretch of several km was totally independent. After arriving at Heliopolis, the route split into three branches, with linking sections between them. The alignment within Heliopolis was mainly along the middle strip of wide avenues. Due to the bad condition of the whole network the system closed down in stages until the last section was abandoned in 2019.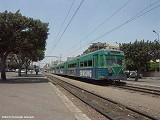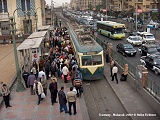 Photos © Christoph Groneck & Heike Fichtner
For more info visit Trams in Greater Cairo at Wikipedia