Lisboa (Lisbon), capital of Portugal, approx. 550,000 inhabitants (2 million in metropolitan area)
Within the city of Lisbon, a small tram network has survived which boasts some spectacular steep rides making it also an important tourist attraction.
Tramway "Eléctricos"
- operated by Carris
- 5 lines
- rolling stock: heritage tram cars except on line 15E, where low-floor cars are used (Siemens/CAF/Sorefame)
---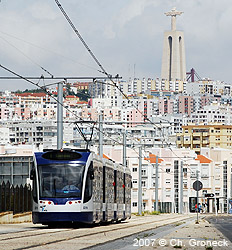 Metro do Sul do Tejo
On the south shore of the Tagus River, a light rail network operating mostly on separate right-of-way was built. The first section from Corroios to Cova da Piedade opened on 30 April 2007. The western branch from Cova da Piedade to Universidade was brought into service on 15 Dec 2007, and the system was completed on 27 Nov 2008 with the opening of the Cacilhas leg through the Almada town centre.
More about