System
Lille is situated in the north of France near the Belgian border and actually right between Paris, London and Brussels. Although the city itself is not too large (210,000 inh.), the entire metropolitan area (CUDL - Communauté Urbaine de Lille) is the fourth biggest conurbation in France with some 1.2 million inhabitants.
Metro
Lille is synonymous for a new generation of metro systems, a kind of small profile light railway operated automatically, the so-called VAL system (short for Véhicule automatique léger). After trials were carried out by MATRA during the early 1970's, the CUDL decided in 1974 to build 4 VAL lines in the metropolitan area. Construction started in 1978 and the first line was inaugurated on 25 April 1983 between 4 Cantons and République. One year later, on 2 May 1984 the entire Line 1 opened (13.5 km long, 8.5 km underground). It links C.H.R. B Calmette in Lille to 4 Cantons in Villeneuve d'Ascq via Gare Lille Flandres (Central Station). All stations have platform edge doors to separate the platform from the train.
Line 2 opened on 3 April 1989, initially called Ligne 1bis, between St. Philibert and Gares, later renamed Gare Lille Flandres (15.5 km, 7 km underground). In 1994, there was a 1-station extension to the new TGV station Gare Lille Europe, and in 1995 the line reached Fort de Mons. On 18 Aug. 1999, Line 2 was extended to Tourcoing-Centre (12.5 km - 16 stations) and it reached C.H. Dron near the Belgian border on 27 Oct. 2000 (3.6 km). The entire Line 2 is now 32 km long with 43 stations.
Trains are only 2 m wide and 26 m long (two coupled cars) and run on rubber tyres. One unit can carry 156 passengers. Possible minimum headway is 60 seconds. Platforms on Line 1 are only 26 m long (although most stations are prepared to be extended to 52 m), but on Line 2 they were built 52 m long, long enough for two units. Stations are fully accessible for the disabled.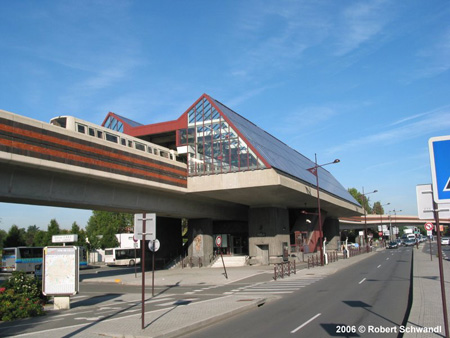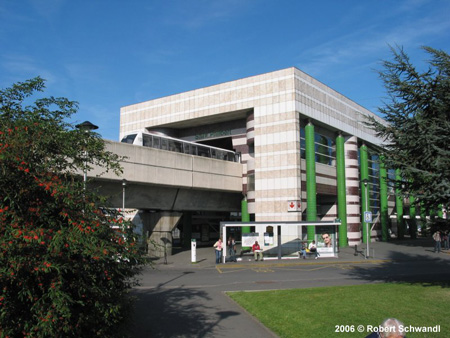 Photos 2006 © Robert Schwandl (More)
Tram
The Lille-Roubaix-Tourcoing tram, also called Mongy (name of its creator), mainly runs along 3 large avenues, which opened the same year (1909), it runs separate from other road traffic. The current trains are made of 4 cars, they were designed by Pininfarina and built by Breda. The tram runs underground at Gare Lille-Flandres, Gare Lille-Europe, St Maur and Clemenceau-Hippodrome stations.
- network length: 18.6 km, 36 stops
- 1000 mm gauge
- 2 lines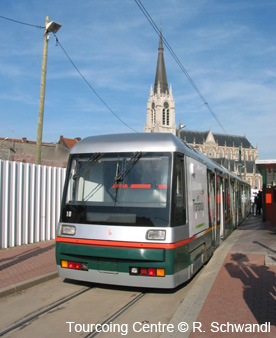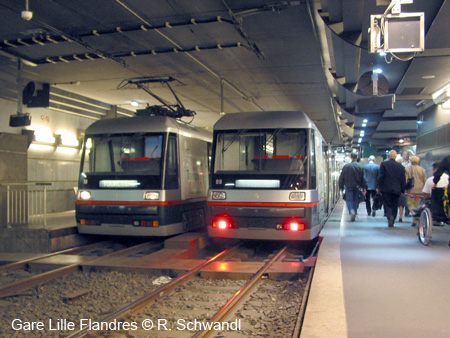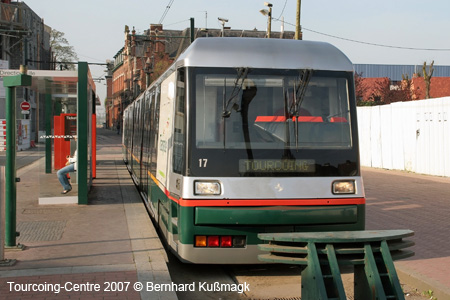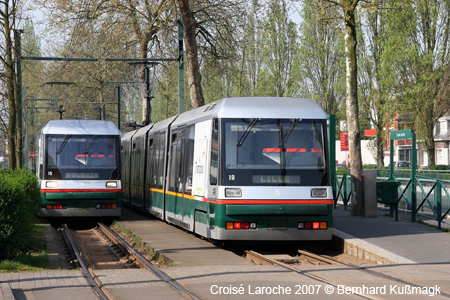 History
25 April 1983 - 4 Cantons - République
02 May 1984 - République - C.H.R. B Calmette
03 April 1989 - St. Philibert - Gare Lille Flandres
05 May 1994 - Gare Lille Flandres - Gare Lille Europe
17 Mar 1995 - Gare Lille Europe - Fort de Mons
18 Aug 1999 - Fort de Mons - Tourcoing-Centre
27 Oct 2000 - Tourcoing-Centre - C.H. Dron
Projects
Possible extensions - Line 1 from C.H.R. B Calmette to Wattignies, Line 2 from St. Philibert to Perenchies and from C.H. Dron to Mouscron in Belgium, with possible branches from Roubaix to Hem and Wattrelos.
Platforms on Line 1 will be lengthened to 52 m.
Practical Info
The Lille Métro operates from 5:00 until midnight, with trains every 1.5 - 4 minutes, every 6 - 8 minutes early morning and evenings. On Sundays there is a train every 4-6 minutes.
- FARES (2010, in Euro)
Single - 1.30
10 rides - 10.60
Day Pass - 3.60
Weekly Pass - 11.40


All tickets are valid on buses, trams and métro. Special season tickets are available including TER regional trains and regional buses.
Links
Photos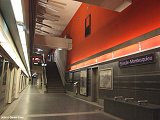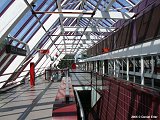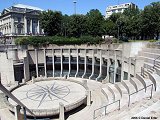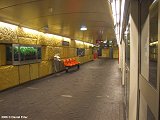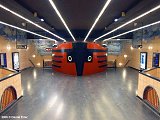 Photos © Daniel Erler
Books
Christoph Groneck: METROS IN FRANKREICH / METROS IN FRANCE. Paris, Lyon, Marseille, Lille, Toulouse, Rennes, Rouen & Laon. - Aug. 2006, Robert Schwandl Verlag, ISBN 3 936573 13 1 (More info)

Bernard Felix: Le VAL 273 pages (1993) Maxima ; ISBN : 2840010488
1983-1988: six ans de Métro dans la Communauté urbaine de Lille: la ligne nr. 1 . - 83 pages (6 mai 1993) Centre d'études des transports urbains ; ISBN : 2110855207
Christoph Groneck: Neue Straßenbahnen in Frankreich. - 2003, 167p., Ek-Verlag, ISBN 388255844X