System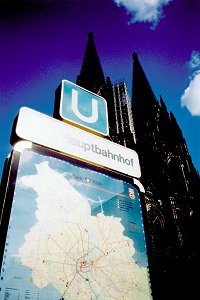 With just over a million inhabitants, Cologne (Köln) is Germany's fourth largest city. In the 1960s, Köln decided to build an underground tram system (like Stuttgart or Hanover) instead of a full metro (like Nuremberg or Munich). The first underground stretch opened in 1968. Most tunnel sections in the city centre were built until 1974, and in the 1980s and 90s the tunnel network was gradually expanded. Currently the system includes 44.5 km of metro-like routes, either underground, elevated (L13) or at grade. This is complemented by 48 km of conventional railway lines (Lines 16 and 18 to Bonn) and 94 km of tram-like routes. The total length of the network is 188 km (12/2010).
The system is a true network with many lines sharing certain stretches. In 1994 it was decided that the east-west lines shown in red on the map will not be converted to Stadtbahn operation with high-floor vehicles. Instead new low-floor trams were acquired which offer the same accessibility (35 cm). From Dec. 2003, also the "ring lines" (shown in green) were added to the low-floor network, whereas all other lines will eventually be converted to Stadtbahn lines similar to the networks in Stuttgart or Frankfurt with high platforms (90 cm) and mainly separate right-of-way when running at grade. Most underground stations have been rebuilt with high platforms in recent years, but some still have low platforms only (e.g. Appellhofplatz-Zeughaus, Reichenspergerplatz).
In Aug. 2007, the line layout was simplified, with several line numbers (6, 8, 17, 19) having disappeared.
For Bonn click here.
Photos
History of underground sections and recent extensions
1968 - Friesenplatz - Dom/Hauptbahnhof
1969 - Appellhofplatz - Barbarossaplatz
1970 - Poststraße - Severinstraße and Dom/Hbf - Breslauer Platz (- ramp Turiner Str.)
1973 - Chorweiler subway
1974 - Breslauer Pl. - Ebertplatz - Neusser Str/Gürtel (3.6 km); Hansaring - Reichenspergerstr. (2.8 km); elevated "Gürtel"-route Nußbaumerstr. - Mülheim Bridge (Line 13 - 5.9 km)
1976 - underground station Fuldaer Str. (650 m)
1983 - Deutz subway
1985 - Friesenplatz - H.Böckler-Platz - Gutenbergstr.
1987 - Hansaring - Rudolfplatz - Zülpicher Platz
1989 - H.Böckler-Platz - Venloer Str./Gürtel
1992 - Venloer Str./Gürtel - Bocklemünd
1997 - Mülheim Bridge - Bf. Mülheim
27 May 2000 - Line 1 extended underground (500 m) at its eastern end to Bensberg
15 June 2002 - Line 1 Junkersdorf - Weiden-Schulstraße (2.7 km)
- Line 3 Bocklemünd - Mengenich-Ollenhauerring
16 June 2003 - Line 4 rebuilt to Stadtbahn standard between Keupstraße and Odenthaler Straße
28 May 2006 - Line 1 Weiden-Schulstraße - Weiden West (1 km)
12 Dec 2010 - Line 5 Rektor-Klein-Str. - Butzweilerhof (1.8 km)
09 Dec 2012 - Line 5 Dom/Hbf - Rathaus
15 Dec 2013 - Line 5 Rathaus - Heumarkt

Photos © (1) Thomas Schunk, (2-4) Paul Lohkemper, (5) Robert Schwandl | More Photos
Projects
From Breslauer Platz/Hauptbahnhof to Bonner Wall, a 3.9 km long north-south tunnel is under construction running via Heumarkt, Severinstraße and Chlodwigplatz. It will be used by lines 5 and 16. This section is mostly being excavated by tunnel-boring machines, with some stations being of the tube-type. South of Bonner Wall, a surface alignment will take line 5 to Arnoldshöhe, whereas line 16 will rejoin its present alignment along the River Rhine. After a severe accident in 2009, the construction of this route has been delayed by many years and by 2013 only short sections have been brought into service. The southern tunnel section between Severinsbrücke and Bonner Wall will finally open in Dec. 2015, with the gap between Severinstraße and Heumarkt probably not opening until 2023.
Links
Books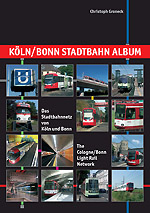 Christoph Groneck:
Köln/Bonn Stadtbahn Album
The Cologne/Bonn Light Rail Network
Nahverkehr in Deutschland, Band 6
Urban Transport in Germany, Vol. 6
144 Seiten | pages
17x24 cm
3 Netzpläne | 3 Network maps
ca. 350 Farbfotos | colour photos
Text deutsch & English
ISBN 3 936573 07 7
19.50 EUR
Published December 2005
More info and sample pages | Mehr Info und Probeseiten
---
Dieter Höltge, Axel Reuther: Straßenbahnen und Stadtbahnen in Deutschland, Bd.7, Köln, Düren, Aachen. - 312 p., EK Verlag, Freiburg, 2001, ISBN: 3882553383
---
Rudolf Schmidt: Fupp do kütt sie öm de Eck. Mit der Elektrischen durch das Köln der Jahrhundertwende. - 132 p., Emons Vlg., Köln, 1999, ISBN: 3897051001