ISTANBUL
With approx. 12 million inhabitants in the metropolitan area, Istanbul is the biggest city in Turkey, mostly situated on the European continent. Traffic conditions in this densely populated city are getting worse while construction of a modern mass transit system is only progressing slowly.
The first underground line dates back to the 19th century. This is the funicular subway called "Tünel" which opened in 1875. Still today this short line (573 m) is an important means of urban transport as it surmounts a difference in altitude of 60 m. Trains operate every 3.5 minutes and a trip takes 1.5 minutes. The upper station is linked to Taksim Square by a vintage tram. In the 1990's also a modern tram line was put into service through the older parts of the city; this tram is gradually being extended to other parts of the city. In Oct 2013, the 13 km Bosphorus underwater rail link (Marmaray) opened, which will ultimately link the suburban rail lines operated by Turkish State Railways. Track gauge on all different rail systems is 1435 mm.
Metro M1
In 1989 a light metro line (Hafif Metro - M1) was opened from Aksaray towards the western suburbs. Until 1995 it was extended to Yenibosna. After reaching the airport (Havalimani station) in 2002, it has a total length of 20 km with 18 stops. The line is totally segregated from other traffic without level crossings and runs underground for several km: (Aksaray - Ulubatli Topkapi, 3.1 km; Bakirköy - Bahçelievler, 1.8 km; Havalimani, 0.3 km. Platform length is 100 m. The Esenler branch is currently being extended and will become line M3.
Yenikapi - Otogar: 9.6 km; Otogar - Havalimani: 11.5 km; Otogar - Esenler: 1.5 km
03 Sept 1989: Aksaray - Kartaltepe
18 Dec 1989: Kartaltepe - Esenler
31 Jan 1994: Otogar - Zeytinburnu
07 Mar 1994: Zeytinburnu - Bakirköy
26 July 1995: Bakirköy - Ataköy
25 Aug 1995: Ataköy - Yenibosna
15 Jan 1999: Bahçelievler station added
20 Dec 2002: Yenibosna - Havalimani (Airport)
14 June 2013: Esenler - Kirazli (M1b branch)
09 Nov 2014: Aksaray - Yenikapi (0.7 km)
Metro M2
Construction of the first full metro line (M2) started in 1991 and the first section between Taksim and 4 Levent opened after some delays in September 2000. All stations have escalators (of a total of 87 escalators, 16 are at Taksim) and an elevator to provide full accessibility for the disabled. Initially there were 8 French-built 4-car trains in service (GEC-Alsthom). The metro was built by the cut-and-cover method to withstand earthquakes of up to magnitude 9. Stations look similar, although a different colour was chosen for each of them. Platform length is 180 m. Total length of the metro line is 20 km with 13 stations (2011).
The northeastern extension is 5.5 km long and includes three new stations, whereas the 1.6 km from Taksim to Sishane is only the initial section of the route planned to reach the Yenikapi interchange. Taksim - Sishane used to be operated as a shuttle service until the Yenikapi extension opened in 2014.
A 1-km branch from Sanayi to Seyrantepe was added in 2010, which will primarily serve the new Galatasaray football stadium to open in 2011.
16 Sept 2000: Taksim - Levent
24 Oct 2000: Levent - 4. Levent
30 Jan 2009: 4. Levent - Atatürk Oto Sanayi
30 Jan 2009: Taksim - Sishane
02 Sept 2010: Atatürk Oto Sanayi - Darüssafaka
11 Nov 2010: Sanayi Mah. - Seyrantepe branch
29 April 2011: Darüssafaka - Haciosman
15 Feb 2014: Sishane - Yenikapi (3.5 km, including Golden Horn bridge)
16 Mar 2014: Vezneciler station added
Metro M3
14 June 2013: Kirazli - MetroKent (Basaksehir)
22 Nov 2013: Ikitelli Sanayi - Olimpiyat
- 15.9 km
- 180 m long platforms for 8-car trains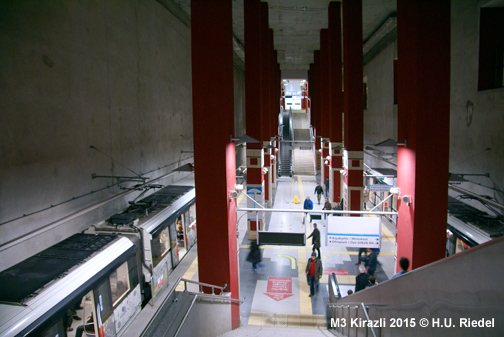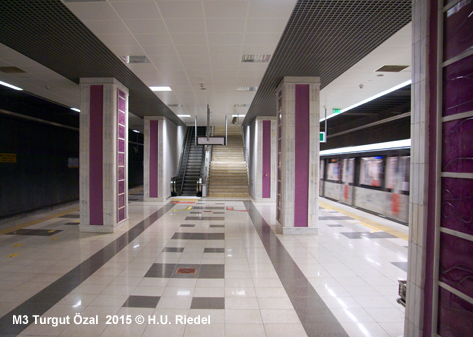 Metro M4
First metro line on the Asian side of Istanbul, departing from the ferry terminal at Kadiköy and running fully underground south to Kartal (22 km)
17 Aug 2012: Kadiköy - Kartal
29 Oct 2013: Ayrilikcesme station added

Metro M6
19 April 2015: Levent - Bogazici Üniversitesi (Hisarüstü)
- 3.3 km, basically single-track with passing loops at intermediate stations, operated with two shuttle trains

Light Rail T4
This line was opened in 2007, running from the edge of the old city towards the northern suburbs. The line is referred to as the Sultançiftligi-Edirnekapi line, it was initially 12.4 km long (with 5.8 km underground) and has some level crossings. Although it is officially classified as a 'tramway' (T4), it uses the same rolling stock as Metro M1. A 2.3 km extension was added in 2009, providing transfer to line M1 and the tramway.
10 Sept 2007: Sehitlik - Mescid-i Selam
18 Mar 2009: Sehitlik - Topkapi
Tram T1
The present modern tram line T1 (18.2 km) was opened in 1992 between Sirkeci and Topkapi and subsequently extended from both ends. Temporarily operated with high-floor vehicles (like those in service on M1), it is now served by Bombardier Flexity Swift low-floor trams. Line T2, which had opened in September 2006 from Zeytinburnu to Bagcilar, was connected to T1 in early 2011, and the single line is operated with low-floor vehicles, both from Bombardier and Alstom (Citadis).
Tram T3
Nostalgic Moda tramway opened in 2003: single-track 2.6 km circular line on the Asian side of Istanbul in Kadiköy. Trams run in a clockwise direction stopping at Kadiköy (ferry and future M4) - Iskele Camii - Çarsi - Altiyol - Bahariye - Kilise - Moda Ilkokulu - Moda - Mühürdar - Damga Sokak before returning to Kadiköy.
Tram T5
Although not shown with this line number on official maps, the T5 is the heritage tram line (1.5 km) which connects the top station of the Tünel Funicular to Taksim Square; opened in 1990, single-track.
F1 Taksim
- Kabatas Füniküler
Modern funicular subway opened in June 2006: about 600 m long, difference in altitude of 60 m.
F2 Tünel
Funicular subway opened in 1875: on its 573 m route it negotiates a difference in altitude of 60 m.
---
Marmaray - Suburban Rail
On 29 Oct 2013, the long planned underwater Bosphorus rail crossing, referred to as 'Marmaray', the construction of which had started in May 2004, was opened. The project includes a 13.3 km Istanbul Strait crossing and the upgrade of 63 km of suburban lines to create a 76.3 km high capacity line between Gebze and Halkali. The Istanbul Strait crossing was realised by means of a 1.8 km earthquake-proof immersed tube tunnel, assembled from 18 sections. This underwater tunnel is linked to bored tunnels from Kazliçesme on the European side and Sogutlucesme on the Asian side of Istanbul. Intermediate underground stations were built at Yenikapi, Sirkeci and Uskudar (Sirkeci only opened on 1 Dec 2013). The Yenikapi hub includes the termini for metro lines M1 and M2. The upgrade of the suburban lines requires the laying of a third track along most of the way to increase the line capacity up to 75,000 passengers per hour in each direction. The automatic train control system provided by Siemens (Trainguard Sirius) allows a train every 2 minutes.
By 2015, the existing suburban rail lines, one on the European side (Sirkeci - Halkali, 27.5 km, every 20 min), and one on the Asian side (Hayderpasa - Gebze, 44 km, every 20 min) will be upgraded and then linked to the Marmaray tunnel. The intercontinental rail tunnel will also be used by long-distance trains.
Projects
Under construction:
METRO M4: Kartal - Kaynarca; then from Kaynarca to Istanbul-Sabiha Gökçen International Airport (7.4 km; 2018)
METRO M5: Üsküdar - Ümraniye - Dudullu - Çekmekköy-Sancaktepe (20 km, 16 stations) - construction began in March 2012, opening 2015 (Project Website)
METRO M7: Mecidiyeköy - Mahmutbey; construction began in Feb 2014; with planned extension from Mecidiyeköy via Besiktas to Kabatas, totalling 17.5 km with 18 stations
Planned extensions:
METRO:
Yenikapi - Bagcilar - Basaksehir 20 km
Otogar - Besiktas 13.5 km (Linear Metro due to steep gradients)
HAFIF METRO:
Bakirköy - Beylikdüzü 21 km
Ümraniye - Göztepe 5 km
Kartal - Hava Alani 9.6 km
MONORAIL: Bakirköy - Incirli 3.4 km (western suburbs)
Links
Istanbul Ulasim Metro Operator Official Page
IETT - Tünel and Tram Operator
Istanbul Metropolitan Municipality
Funimag > Tünel
Istanbul Metro at Wikipedia
Marmaray at Wikipedia
Ray Haber (Turkish Rail News)
Photos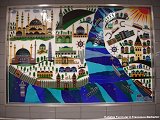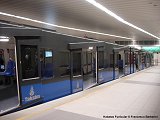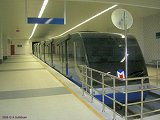 Photos 1-4 © Francesco Barberini; 5 © Burç Acar; 6 © K.Gullabyan