METRO (MRT & LRT)
Singapore's (4 million inh.) rapid transit system is considered one of the most modern in the world and was the first one to introduce platform sliding doors to protect passengers from falling onto tracks and to allow better air regulation in underground station areas (similar doors were installed in the St. Petersburg metro from the 1960's though).
The system (MRT and LRT) is operated by two companies, SMRT and SBS Transit. Lines are named and stations can also be identified by a line/station code, like Jurong East would be NS1 and EW24. Unlike other metro systems, Singapore uses destination numbers, instead of line numbers.
SMRT Lines
The first two lines are operated by SMRT (formerly Singapore Mass Rapid Transit):
1990: 67km (19km underground, 3.3km at grade, 44.8km on viaduct), 42 stations (15 underground)
2002: 2 lines, 89.4 km (23.3km underground), 51 stations (16 underground, 9 of which are prepared as civil defence stations), including 6.4 km airport branch. Average station depth is 14.7m, Raffles Place being the deepest on these two lines at 21.3m.
Both lines are served by 138m long 6-car-trains, which are air-conditioned, with 4 doors each car. Carriages are 3.2m wide. Trains reach a maximum speed of 80km/h (average 45km/h), use 1435 mm gauge, power supply is via third rail at 750V.
North South Line (NS)
Marina South Pier - Jurong East - 44.8 km
07/11/1987: Yio Chu Kang- Toa Payoh
12/12/1987: Toa Payoh - Raffles Place
20/12/1988: Yio Chu Kang - Yishun
04/11/1989: Raffles Place - Marina Bay (start of two separate lines)
10/03/1990: Jurong East - Choa Chu Kang (then part of the East West Line)
10/02/1996: Yishun - Choa Chu Kang (incorporating line up to Jurong East)
23/11/2014: Marina Bay - Marina South Pier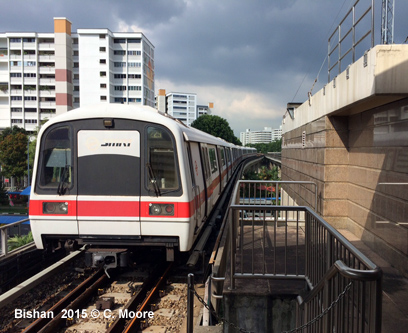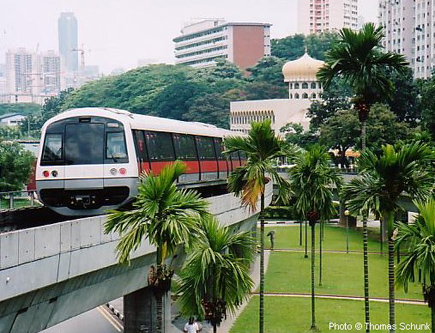 ---
East West Line (EW)
Pasir Ris/Changi Airport - Joo Koon - 49.2 km
12/12/1987: Raffles Place - Outram Park
12/03/1988: Outram Park - Clementi
05/11/1988: Clementi - Lakeside
04/11/1989: Raffles Place - Tanah Merah (start of two separate lines)
16/12/1989: Tanah Merah - Pasir Ris
10/03/1990: Jurong East - Choa Chu Kang (later linked to the North South Line)
06/07/1990: Lakeside - Boon Lay
10/01/2001: EW28 Expo station (shuttle service between Tanah Merah and Expo stations)
18/10/2001: Dover station (EW22) added between Clementi and Buona Vista
08/02/2002: EW29 Changi Airport (with through service from Boon Lay)
22/07/2003: Shuttle service Tanah Merah (EW4) - Changi Airport (CG2)
28/02/2009: Boon Lay - Joo Koon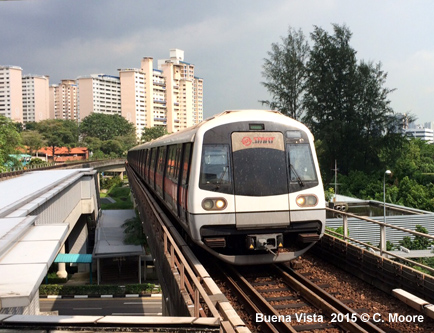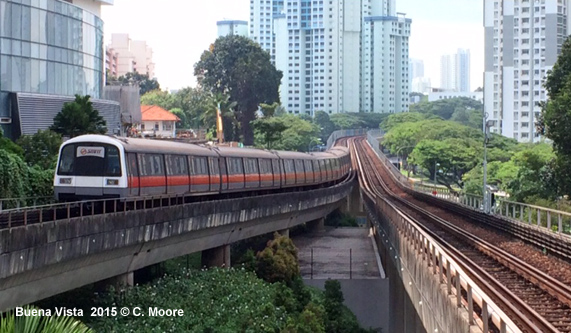 Circle Line (CC)
The first 5.7 km section of a 33 km circular line (although not really a full circle) opened in May 2009 between Bartley and Marymount, intersecting with the North South Line at Bishan, and the North East Line at Serangoon. Like the North East Line, the Circle Line is a driverless metro, but operated only with three-car trains by SMRT. A 2.4 km branch to Marina Bay (with stations numbered CE1 for Bayfront and CE2 for Marina Bay) was added in early 2012.
28 May 2009: Bartley - Marymount (5.7 km)
17 April 2010: Dhoby Ghaut - Bartley
08 Oct 2011: Marymount - HarbourFront
14 Jan 2012: Promenade - Marina Bay (2.4 km)
Serangoon station © Jani Patokallio | CCL train © Jimmy Foong
---
Bukit-Panjang LRT
Acting as a feeder line to the North South Line, and since Dec 2015 also to the Downtown Line, this automated elevated people mover line started operation in 1999, connecting the MRT station at Choa-Chu-Kang with the new town of Bukit Panjang. Service is provided on a double track loop line every 6 minutes (2-4 minutes during rush hours) from 5:00 to 1:00. The 7.8 km long line with 14 stations is operated by SMRT, and uses 19 rubber tyred vehicles.
Station names are as follows:
BP1 Choa Chu Kang, BP2 South View, BP3 Keat Hong, BP4 Teck Whye, BP5 Phoenix, BP6 Bukit Panjang, BP7 Petir, BP8 Pending, BP9 Bangkit, BP10 Fajar, BP11 Segar, BP12 Jelapang, BP13 Senja, BP14 Ten Mile Junction.
6 Nov 1999 (7.8 km, 14 stations)
---
SBS Lines
SBS Transit is also a major bus operator in Singapore.
North East Line (NE)
A 20 km underground and fully automated*, driverless line from the HarbourFront (World Trade Center) to Punggol opened in June 2003. Woodleigh station only opened in 2011 once the area got fully developed. The first 25 six-car trains were delivered by Alstom in Oct. 2000. They are able to travel at a maximum speed of 90km/h and are powered via overhead pantographs. This line (total travelling time 33 minutes) is operated by SBS Transit. They also operate two LRT feeder lines, the Sengkang LRT & the Punggol LRT (see below).
* Alstom URBALIS system
20 June 2003: HarbourFront - Punggol (except Woodleigh and Buangkok stations)
15 Jan 2006: Buangkok station opened
20 June 2011: Woodleigh station opened
---
Downtown Line (DT)
20.9 km, 18 stations, underground, operated by SBS
22 Dec 2013: Chinatown - Bugis (4.3 km)
27 Dec 2015: Bugis - Bukit Panjang (16.6 km)
---
Sengkang LRT
This is an 8-shaped fully automated mini-metro designed as a feeder line for the North-East-Line, operating a 3.5 minute headway during peak hours and a 6-minute off-peak service.
Station names are:
STC - Sengkang, SE1 - Compassvale, SE2 - Rumbia, SE3 - Bakau, SE4 - Kangkar, SE5 - Ranggung; SW1 - Cheng Lim, SW2 - Farmway, SW3 - Kupang, SW4 - Thanggam, SW5 - Fernvale, SW6 - Layar, SW7 - Tongkang, SW8 - Renjong
20 Jan 2003 - East Loop
29 Jan 2005 - West Loop (except stations from SW1 to SW3)
15 Nov 2007 - Farmway station (SW2) opened
01 Jan 2013 - Cheng Lim station (SW1) opened
27 Jun 2015 - Kupang station (SW3) opened
Punggol LRT
This is the second automatic people mover working as a feeder line for the North East Line.
Station names are:
PTC - Punggol, PE1 - Cove, PE2 - Meridian, PE3 - Coral Edge, PE4 - Riviera, PE5 - Kadaloor, PE6 - Oasis, PE7 - Damai; PW1 - Sam Kee, PW2 - Teck Lee, PW3 - Punggol Point, PW4 - Samudera, PW5 - Nibong, PW6 - Sumang, PW7 - Soo Teck
29 Jan 2005 - PTC Punggol and East Loop (except stations PE6 and PE7)
15 Jun 2007 - Oasis station (PE6) added
20 June 2011 - Damai station (PE7) added
29 June 2014 - West Loop (only serving PW5-PW7)
29 Feb 2016: Sam Kee (PW1) station added
29 Dec 2016: Punggol Point (PW3) station added
---
Sentosa Express
Since 15 Jan 2007, the 3-station Sentosa Express (monorail) has linked the Sentosa island to the mainland, where it provides transfer to the MRT at the HarbourFront station. A fourth station, Waterfront, was added on 1 Feb 2010.
Waterfront Station - Photo © Jani Patokallio
Projects
2016: East-West Line: Joo Koon - Tuas (7.5 km, 4 stations, elevated)
2019: Canberra station added on NSL between Yishun and Sembawang
Downtown Line (DTL - 44.1 km - see project details here and here):
2017: Chinatown - Expo (21 km, 16 stations)
2024: Expo - Sungei Bedok (2.2 km, 2 stations)
Thomson-East Coast Line (TEL - 43 km):
2019/21: [13] Woodlands North - Gardens by the Bay (30 km, completely underground) > More
2024: Gardens by the Bay - Sungei Bedok [14] (East Coast Line, with intermediate stations at Tanjong Rhu, Katong Park, Amber, Marine Parade, Marine Terrace, Siglap, Bayshore, Bedok South)
For more information download the 2013 Land Transport Master Plan (PDF)
Links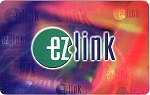 Official SMRT page includes a clickable map with station information
ez-link Card (Tariff System)
SBS Transit (official - North-East-Line & Sengkang/Punggol LRT operator)
Land Transport Authority incl. new projects
---
Singapore Mass Rapid Transit at Wikipedia
A tour of the Singapore Metro by Mark S. Feinman
Development of the Singapore MRT Network Article in JRTR by Tai Chong Chew and Chong Kheng Chua
Singapore Rapid Transit map at Johomaps.com
Singapore Rapid Transit map at SEA City Maps
Photos