TIANJIN
Tianjin (Tientsin, Tenshin, 9.3 million inhabitants) has always been an important inland harbour, situated 40 km from the Yellow Sea (Bohai Gulf) and 130 km from Beijing (Peking).
Subway Line 1
Tianjin was the second city in China to build an underground railway. Construction of the existing metro line started in 1970. It runs only 2-3 metres under the city's streets, partly using a driedout canal bed. The construction was interrupted by the 1976 earthquake and was resumed and finished between 1979 and 1984. The line started at Xin Hua Road (now Xiaobailou), and finished at the West Railway Station. The total length was 7.4 kilometres.
The Tianjin metro has 1435 mm gauge and it uses 825Vdc 3rd rail power supply. Most stations have side platforms.
The Tianjin metro closed on 9 Oct 2001 for reconstruction and extension. The extended line eventually opened in summer 2006.
10 Aug 1980 - Line 1 (5.2 km) Xinanjiao - Xinhua Road
Dec. 1984 - Xinanjiao - West Railway Station (2.2 km)
9 Oct 2001 - Line 1 closed for reconstruction and extension
12 Jun 2006 - Line 1 - Liuyuan - Shuanglin (26.2 km)
Subway Line 2
East-west line initially operated in two sections, due to a construction accident on the central section. After completion of the central section in 2013, the line was 23.5 km long with 19 stations. A 4 km extension to Binhai International Airport (Terminal 2) was added in 2014.
01 July 2012: Caozhuang - Dongnanjiao (w/o Jieyuan Xidao) and Tianjinzhan - Konggangjingjiqu
18 Nov 2012: Jieyuan Xidao
28 Aug 2013: Dongnanjiao - Tianjinzhan (Tianjin Railway Station)
28 Aug 2014 Konggangjingjiqu - Binhaiguojijichang (Binhai Int'l Airport)
Subway Line 3
North-south line, 34 km with 26 stations
01 Oct 2012: Xiaodian - Gaoxinqu
28 Dec 2013: Gaoxinqu - Nanzhan (South Railway Station)
Binhai Line (Line 9)
The TEDA (Tianjin Economic Developing Area) industrial zone has been Tianjin's fastest developing area. But commuting between downtown and TEDA has become a serious problem. Although there were already 3 express highways and 1 railway between them, a mass transit line was still required. With a sum of 5.92 billion Yuan (USD 0.71 billion) that was invested by the new company named Binhai Mass Transit Developing, the construction started in 2001. And it was finished in late October 2003. The original LRT Binhai line is 45.4 km long running from Zhongshanmen to Donghailu (Control Centre). Construction began in early 2004.
28 March 2004: Binhai Line Zhongshanmen - Donghailu (trial operation: only 6 stations opened for public, plus two - Hujiayuan and Huizhanzhongxin - for special occasions only)
25 May 2004: Yihaoqiao station added
18 Oct 2004: Shiminguangchang station added
27 March 2005: Huizhanzhongxin fully opened
28 April 2005: Erhaoqiao station added, and Yihaoqiao closed; two stations renamed: Yanghuoshichang > Tanggu, Dongtinglu > TEDA
01 June 2006: Yihaoqiao station reopened and Hujiayuan fully opened; New Xinlizhen, Xiaodongzhuang and Junliangcheng stations added
01 May 2011: Zhongshanmen - Shiyijinglu
15 Oct 2012: Shiyijinglu - Tianjinzhan (Tianjin Railway Station)
TEDA Modern Guided Rail Tram
The TEDA (Tianjin Economic Developing Area) industrial zone is served by a Translohr rubber-tyred tram on an 8 km north-south line with 14 stops.
10 May 2007: TEDA (Line 9 station) - North of College District
Photos

Photos © Zhang Shawn
Projects
According to the Tianjin City Master Plan, Tianjin will have seven metro lines in 2010, and the total length will be 153.9 kilometres (see map below).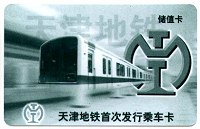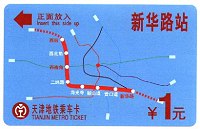 Links