Honolulu - 955,000 inhabitants, on the island of Oahu
Under construction since Feb 2011:
32 km elevated rapid transit line from East Kapolei to Ala Moana Center:
Stage 1: East Kapolei - Pearl City 10.5 km
Stage 2: Pearl City - Aloha Stadium 6.3 km
Built by Ansaldo Honolulu Joint Venture including Ansaldo STS and AnsaldoBreda, who will supply 80 driverless vehicles.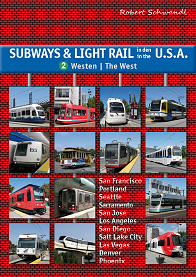 SUBWAYS & LIGHT RAIL
in the U.S.A.
-- The Book! --
Vol. 2: The West
Click here for more info!