In Málaga, Andalusia, a system similar to the one operating in Sevilla was built. This light rail system uses low-floor trams (CAF Urbos 3) and comprises two lines radiating from the city centre towards the western suburbs, running mostly underground. Its initial length is 12 km with 17 stations, five of which are modern surface tram stops. Construction had started in autumn 2005.
Line 2 was meant to be in service on 11-11-2011, but although ready for operation between La Isla and Palacio de los Deportes, its inauguration was eventually postponed to coincide with that of line 1 and the shared station next to Málaga's main railway station in spring 2013, then delayed to mid-2014. Until the extension to Guadalmedina is completed, L1 and L2 are operated as a single continuous line with trams reversing direction at El Perchel.
At El Perchel the metro provides interchange with the existing Cercanías (suburban) line to the Airport and Fuengirola, and to the mainline services (AVE high speed link to Córdoba and Madrid). The railway station is called Málaga María Zambrano.
In 2006, the first tramway in Andalusia opened 30 km further east, in Vélez-Málaga.
As of 2017, a 1-station extension to be served by both lines is under construction to Guadalmedina, plus another 1-station extension below the river Guadalmedina into the city centre proper with a terminus at Atarazanes to be served by L1.
Later a branch for L2 will be added; this will diverge just north of Guadalmedina station; initially planned to reach the surface on a ramp and serve 4-5 stops to Hospital Civil, the project was modified in 2019 in favour of a fully underground alignment.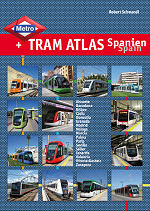 Robert Schwandl:
METRO & TRAM ATLAS Spanien | Spain
Alicante, Barcelona, Bilbao, Cádiz, Donostia/San Sebastián, Granada, Madrid, Málaga, Murcia, Palma, Parla, Sevilla, Sóller, Tenerife, Valencia, Vitoria-Gasteiz, Zaragoza

Numerous colour images, detailed network maps, Text deutsch/English, ISBN 978 3 936573 46 6, Sept. 2015, EUR 19.50