Puerta del Sur

11/04/2003 - Alcorcón

Puerta del Sur provides interchange between MetroSur and Line 10, the latter terminating on the upper level.

Two large paintings show show a rural landscape typical for the area, although now more and more parts are being built up.

The control centre for MetroSur is visible at the top of the photo.

San Nicasio
11/04/2003 - Leganés
Leganés Central
11/04/2003 - Leganés
Hospital Severo Ochoa

11/04/2003 - Leganés

The hospital in the south of Leganés is named after Severo Ochoa, who was awarded the Nobel Prize in 1959 and contributed to decipher the genetic code, hence the murals in this station.

Casa del Reloj
11/04/2003 - Leganés
Julián Besteiro
11/04/2003 - Leganés
El Carrascal
11/04/2003 - Leganés
El Bercial
11/04/2003 - Getafe
Los Espartales
11/04/2003 - Getafe
El Casar
11/04/2003 - Getafe
Juan de la Cierva

11/04/2003 - Getafe

Juan de la Cierva station is named after an important 19th century aviator, inventor of the rotators used in helicopters. Nearby is the Getafe military airbase, one of the oldest airports in Spain.

Getafe Central

11/04/2003 - Getafe

At Getafe, the existing Renfe Cercanías line was put underground together with the construction of MetroSur, with the new Renfe station on level -1, and Line 12 on level -3, perpendicularly. Getafe Central now boasts the largest of all access buildings along MetroSur.

Alonso de Mendoza
11/04/2003 - Getafe
Conservatorio
11/04/2003 - Getafe
Arroyo Culebro
11/04/2003 - Getafe
Parque de los Estados
11/04/2003 - Fuenlabrada

Fuenlabrada Central

11/04/2003 - Fuenlabrada

As all transfer stations on MetroSur, Fuenlabrada Central was clad in white enamel panels, whereas other stations have various colours rather chosen at random.

Parque Europa
11/04/2003 - Fuenlabrada
Hosp. de Fuenlabrada

11/04/2003 - Fuenlabrada

Loranca

11/04/2003 - Fuenlabrada

Loranca station lies halfway between Móstoles and Fuenlabrada and boasts a standard MetroSur entrance. Line 12's main depot is located to the south of this station.

Manuela Malasaña

11/04/2003 - Móstoles

Most stations on MetroSur have a rectangular shape, but Manuela Malasaña has a vaulted ceiling. The station and the section up to Loranca was built as a 'false tunnel', excavated from the surface through unpopulated terrain. The construction of new homes is in full swing around most MetroSur stations.

Hospital de Móstoles
11/04/2003 - Móstoles
Pradillo

11/04/2003 - Móstoles

Pradillo station serves the historic centre of Móstoles, once a typical 'pueblo' (village) in the area south of Madrid, but now a typical satellite town.

Móstoles Central

11/04/2003 - Móstoles

As most tunnels on MetroSur were excavated by tunnelling machines, a 9.5 m diameter shield was put on display above the platforms at Móstoles Central.

Univ. Rey Juan Carlos
11/04/2003 - Móstoles
Parque Oeste
11/04/2003 - Alcorcón
Alcorcón Central
11/04/2003 - Alcorcón
Parque Lisboa
11/04/2003 - Alcorcón
Special Features of Line 12 - MetroSur:
Total length: 41 km - 28 stations
Large profile line with 110 m long platforms (3-car trains of class 8000 in service).
Line 12 operates every 7.5 minutes during normal daytime service, and every 4-5.5 min during morning peak hours.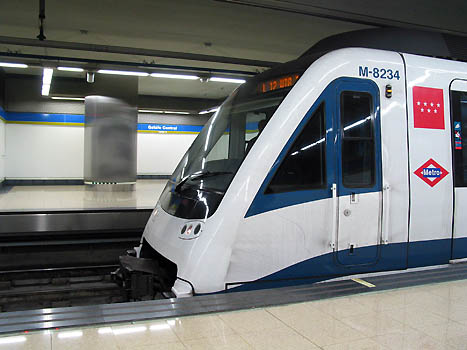 The circular MetroSur line runs entirely outside the Madrid city boundaries and links the municipalities of Alcorcón, Móstoles, Fuenlabrada, Getafe and Leganés in the south of the Madrid metropolitan area. This region (including the towns of Pinto and Parla) is home to approximately 1 million people.
The 41 km long MetroSur was built in only 29 months. Most sections (a total of 27 km) were excavated with five 9.5 m diameter TBMs (tunnel boring machines), the rest being built by cut-and-cover (from Manuela Malasaña to Loranca; from east of Loranca to Hospital de Fuenlabrada; from east of Parque de los Estados to west of Arroyo Culebro; about 1 km west of San Nicasio) or the classic Madrid method (about 500 m east of Loranca; from west of Arroyo Culebro to Conservatorio). All stations were built by cut-and-cover and have a similar and very spacious appearance.
There are provisions for two future stations, one between Loranca and Hospital de Fuenlabrada, and one between Parque de los Estados and Arroyo Culebro.
The main depot for MetroSur is located south of Loranca, accessible from Loranca and Manuela Malasaña. There are stabling facilities at El Bercial and further sidings at Universidad Rey Juan Carlos.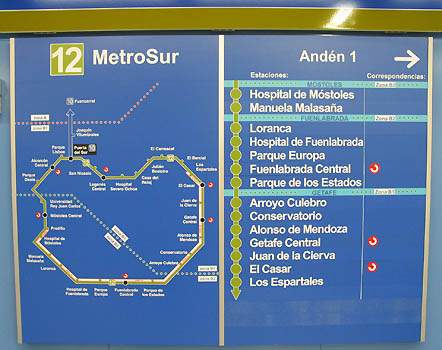 ---
2006 © UrbanRail.Net (Robert Schwandl)