Tickets and the Fare System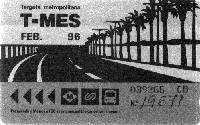 There are different kinds of tickets:
Prices are in Spanish pesetas (ESP) and are valid from February 1996
Bitllet senzill:
Single ticket valid for one trip without transfer on bus, metro or FGC urban lines (130 ESP).
T-1:
10 rides, valid on Barcelona City buses and the metro (incl. the FGC urban lines) (700 ESP).
T-2:
10 rides, valid only on the metro (and FGC urban lines) (680 ESP).
T-4:
Like T-1 but only for senior citizens with a Targeta Rosa (pink card) (335 ESP).
T-Mes:
Unlimited travel for one month on all buses in the metropolitan area, the metro (incl. FGC urban lines) and RENFE Rodalies (Suburban Rail) on one line between "Sants" and "Torre Baró" (4750 ESP). To buy this ticket you need a Transport ID Card available at information offices at "Sants-Estació", "Universitat" and "Sagrada Família".
T-Dia:
Same conditions as T-Mes for one (500 ESP), three (1200 ESP) or five (1800 ESP) days. Especially interesting for tourists.
T-50/30
Valid for 50 rides on 30 days on the metro & FGC urban lines (2900 ESP).